You Know What You Could Be by Mike Heron & Andrew Greig
riverun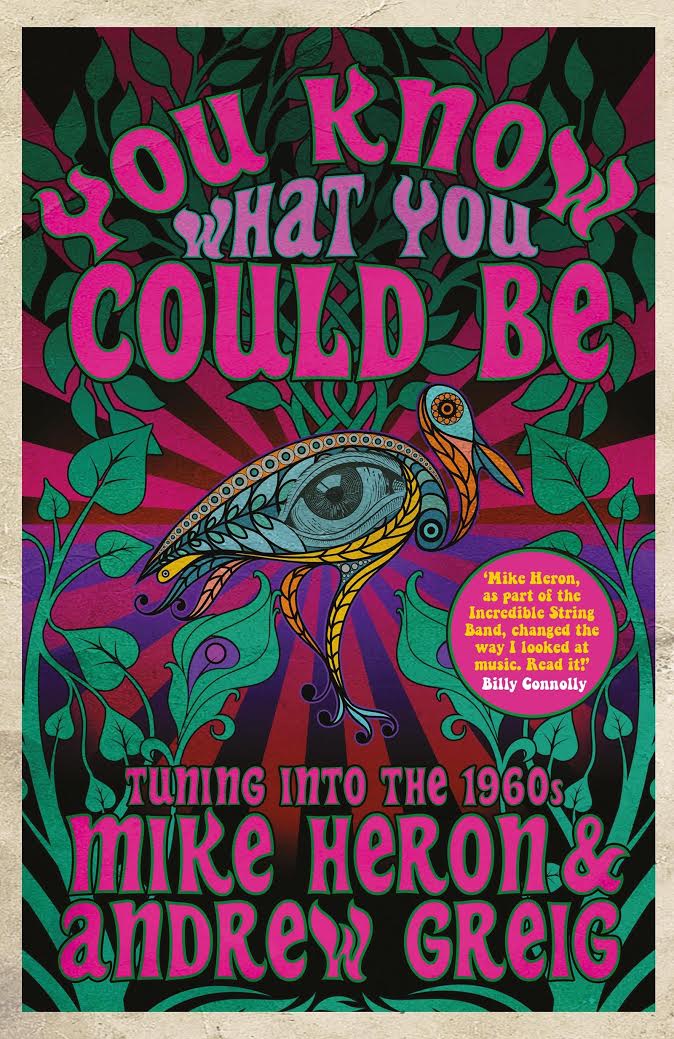 Did you know what you could be, back in the sixties? We all did, at least we did for an optimistic moment or two. This book is made up of two memoirs of those days, written by two men whose lives were linked by music. The link itself almost didn't happen – Andrew Greig happened to hear Mike Heron on an Incredible String Band album at a crucial time of growing up, when listening to new albums carefully enough might reveal the secrets of the universe. He then set out to see this band and meet his heroes. Heron, meanwhile, was in his own universe of parallel naiveté – just a bit older, and just a bit further down the road of musical sophistication. Time rolled on, and they wrote this book about those times which, uncannily, does not make them sound like brain-dead old hippies.
It is not likely they could have known how their different accounts would play off each other – and this illustrates an important point: The Incredible String Band was not contrived. They certainly didn't know they'd have a cult following all their lives. Like these memoirs, the music seemed to be a direct response to the audience and the times. Intuitive and quirky, brave and honest. It worked, but almost by accident.
I'd yet to read a musician's memoir that did not disappoint, but Heron bucked this trend with splendid story-telling and poetic language. Despite the cliché ('If you remember the sixties, you weren't there'), he does remember those days, and relates them with a kind of soft wonder and new insight. Each chapter is packed with such telling details, the whole of sixties' Edinburgh leaps off the page in audible and dope-scented technicolour. The velvet clothes, the absurd hats, the waistcoats, the hitching, the squats, and the girls – don't forget the girls! And Temple Cottage! But through all the memories, runs the music and the sense that for Heron, the music was what mattered more than all the rest. Music made sense of the rest. His memories make such aesthetically pleasing stories, if he'd chosen literature instead of music, Heron would be a great author like Greig.
Greig, on the other hand, wanted to be a famous singer songwriter, but instead grew up into a prizewinning novelist, poet and essayist, well established in the Scottish literary scene. But I've listened to him play guitar and harmonica; I've listened to him sing, and Greig is a gifted musician. You know what you could be – and Greig chose writing, because life is too short to seriously be both. He has a way of lifting a memory up with language, spinning it around and seeing where the patterns lie. Seeing what they might explain, from this distance. The magic trick his memoir pulls off, is that I found myself doing the same with my own past. Look, he seems to say. Here are those times – now look at them this way, just for a minute. Aha!
And the anecdotes of those times? Those are the juiciest bits, because Greig and Heron belonged to the musical equivalent of the Bloomsbury group, more than fifty years ago.
Seems like yesterday, reading this book. Because writing this good is as close to time travel as you can get.
↑