Fiends Fell & Ballad of Jamie Allan by Tom Pickard
Flood Editions (Chicago 2017 & Chicago 2004)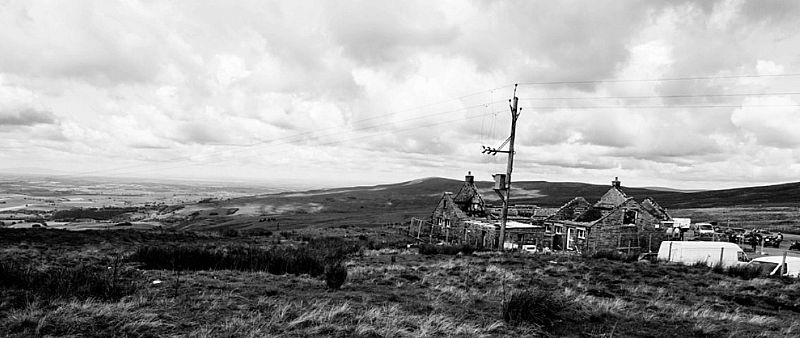 In summer 2002, Tom Pickard the poet came to live in the annexe of Hartside Top Cafe, an isolated stopping place two thousand feet above sea level in the Cumbrian Pennines, looking out over a landscape that extends, south to north, from the mountains of the Lake District to the Galloway hills. Pickard was fifty-six and down on his luck, retreating from Poland and a broken marriage, and headed towards bankruptcy. He stayed on at the cafe for ten years. Fiends Fell concludes with a short, spare lyric sequence called Lark and Merlin, but most of the book is taken up with a journal that chronicles a sliver of that time - from June to the following February - interspersed with verse, mostly minimalist evocations of landscape, weather and birds:
a gold crest of light
caps black mountains
and a raven
on an overhead powerline
slung below cumulus
Up on the escarpment, Pickard keeps busy. He helps-out the lasses in the cafe, serving food from the take-away hatch to bikers, cyclists and day-trippers, cleaning up after everyone has gone home. His five-year-old grandson Ottis visits for a while. He writes. Late in the year an unnamed lover visits, and they party on wine, weed, poppers and sex. Winds are forever present, assaulting, assuaging, whining to be let in; the place has a wind of its own, the Helm Wind. Whenever he can, Pickard is out in their midst - always engaged - up to Black Fell, down to Fiends, taking photographs, making sound recordings, building a shelter where he can enjoy a quiet spliff.
At night, ex-partners, his dead mother, a talking raven, visit Pickard in his dreams. When he's awake, memories constantly suck him back into a vivid past: beatings in the 'backward class' before quitting school at the age of fourteen; discovering that the woman he'd believed to be his aunt was actually his mother; the medieval Morden Tower in Newcastle upon Tyne, the celebrated poetry performance venue he established with his first wife Connie, when he was seventeen. Of the poets who read in the tower - Ginsberg, Creeley, Dorn, Ferlinghetti among them - it's Basil Bunting whose spirit haunts Fiends Fell.
Bunting was well into his sixties, living in obscurity and on the brink of poverty, when the young Pickard called on him, looking for contributions to a magazine he was planning to start. Out of the meeting came a mutual flourishing which led to Bunting producing his masterpiece, the long poem Briggflatts, and to Pickard finding a mentor, teacher, and friend. In interviews Pickard has consistently spoken of his debt to Bunting and, specifically, of the pieces of advice the older man gave: cut back, and again cut back your lines; value the music of words above their meaning; most importantly, when the apprentice asked what verse form to use: "Invent your own."
Music is a recurring motif in Fiends Fell. Wind strums a powerline like an Aeolian harp. It plays across a chimney lip "like a sooty flute." In a gale, the inside of the house breathes like the bellows of a concertina. At the end of November, with the cafe about to close for the season, and a wind coming from the north "like flying ice", Pickard tells himself:
… if I can sort out the heating and debt problems, I believe I can accommodate winter and pick up where I left off with my piper.
The piper is Jamie Allan - musician, thief, serial army deserter, stravaiger, incorrigible snook-cocker - born in Northumberland around 1734, possibly of Gipsy parentage, and died in prison in 1810, while awaiting transportation for horse stealing. In the high cafe, Pickard is working on the libretto for a ballad opera based on Allan's exploits. This preoccupation is hinted at in Fiends Fell, which mentions Allan from time to time (as an unreliable guide across the treacherous landscape of the uplands), and contains a cold-blooded sequence about Nell Clark, once a partner of Allan, who was "hung and anatomised" for robbing and murdering 80-year-old Maggie Crozier in a remote borders bastle [a fortified farmhouse characteristic of the area].
The opera was premiered in 2004 at Sage Gateshead, with a score by John Harle. There's a cracking video of a live performance (www.youtube.com/watch?v=LHQe7mHq5Rc). Flood Editions have published a version of the text, which brings together historical testimony, the lyrics of songs (which flourish in performance), and the kind of spare poetry in which Fiends Fell excels. One of my favourites would be at home in either book:
she sat astride me
in the dark
and we were drunk
rain on the attic roof
a random patterning of impact
or was it
static from her stockings
lit the room
an instrument
I was inside of
In early March 2018, when there was thick snow on the fells, fire gutted the Hartside Cafe, consuming the annexe where Tom Pickard once worked and slept. A mobile van now caters to the bikers, cyclists and day-trippers who still stop there to break their journeys and marvel at the view.
↑