Michael Marra: Arrest This Moment by James Robertson
Big Sky, with project support from Creative Scotland Alba Chruthachail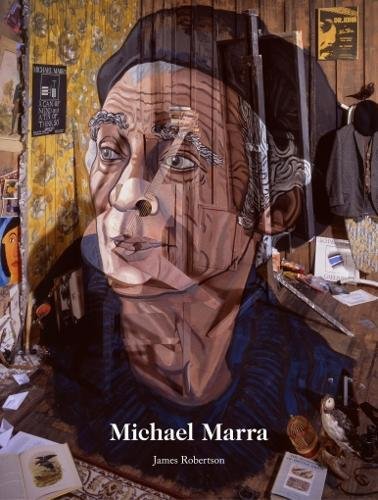 Michael Marra, who died in October 2012 at the age of 60, was a gentle, gifted man. An humanitarian who inspired deep affection, he was unique. A one-off. Everybody said so. A multi-talented songwriter, musician, singer, artist, producer, actor-playwright, arranger and essentially, as noted on the book's back cover, a "chronicler of the improbable, celebrant of the underdog".
He was an enigma impossible to pigeonhole; so how do you write a biography that truly reflects such a man and celebrates his life? Perhaps the answer is take an oblique approach: don't take the obvious chronological route. The last thing that Michael Marra was, was obvious. Make it as kaleidoscopic and unconventional as his life was and weave a tapestry from all those colourful threads.
James Robertson has done just that and to great effect. That he loved and understood the man is clear throughout the book, but especially so in the sequence of Kitchen conversations, nine in all, a brilliant device which weaves through the book and pulls the strands together. The first seven of these conversations, and number nine, are with Michael himself, or rather with his spirit. Robertson conjures-up Michael's voice with uncanny accuracy, alive with his typical laconic, bone-dry humour, and allows Michael, wonderfully witty, to have the last word.
Conversation number eight is with Peggy, Michael's wife. This describes their early life together and sheds some light on his legendary pre-gig nerves. It also reveals how demanding it could be supporting the career of such an intense and deeply committed artist and performer and how important this support was.
Everyone who encountered Michael, however briefly, has a tale to tell. So I'll take the liberty of telling two. Inspired by a performance Michael gave in 2003, a few of us formed a promoting group [Resolis Community Arts – still functioning – Ed.] so that we could book him in our own hall on the Black Isle. By coincidence, the hall is only a few miles from the 'Big Sky' office of Dundee-raised Marra enthusiast, Bryan Beattie, who originated this book project. We pledged to try to get Michael back to perform every two years, and achieved that goal several times. This included his very last solo gig in 2012, just a few months before he died.
Chatting with Michael after the sound check that evening, the conversation turned to football, a passion of his (there's a section in the book titled 'Football') and my home team, Norwich City. I don't follow them closely and he soon left me behind with his knowledge of the current Canaries team. In my youth, I was a regular supporter, and the walk to the ground in the Carrow area of the city passed close to the church of St. Julian of Norwich, an important and internationally revered Christian mystic and anchoress of the late 14th and early 15th century. The biography closes with a famous quote from Revelations of Divine Love by her: "All shall be well, /and all shall be well, /and all manner of /thing shall be well." The link may be tenuous, but All Will Be Well is a beautiful love song and one of Michael's finest.
I was privileged to spend a little time with him on other occasions when he performed at Resolis. His first visit was memorable. The plan was to offer him a meal and a bed for the night. He arrived at our cottage, politely refused food, drank copious amounts of coffee and asked if he could lie down somewhere. Expecting him to stay the night, the bed was made ready for him. He was obviously suffering from pre-performance nerves – something which Peggy, in her conversation with James Robertson, confirms just got worse as the years passed. After the gig, which was a big success, he decided to drive home to Dundee and said he would analyze his performance en route! We often joke that we should put a plaque above the bed: 'Michael Marra almost slept here.' I think he would have appreciated that.
Arrest This Moment is essential reading for all Marra aficionados and for those only slightly acquainted with the man or his work. It reveals so much about him and is strewn with wonderful anecdotes, photographs, prints of many of his paintings and quotes from his closest friends and collaborators. Replete with a full discography, both written and visual, and a chronological list of his shows, plays, films etc., it is beautifully produced with great attention to detail. This ranges from the wonderful, kaleidoscopic portrait by Calum Colvin which graces the front cover, to the choice of layout, typeface and paper.
It's difficult to believe that Michael, ever the perfectionist and stickler for every detail, wasn't directing the design from Robertson's kitchen! It does him justice. A joy to read and a book to treasure.
↑