Rosemarkie Scribe: Elizabeth Sutherland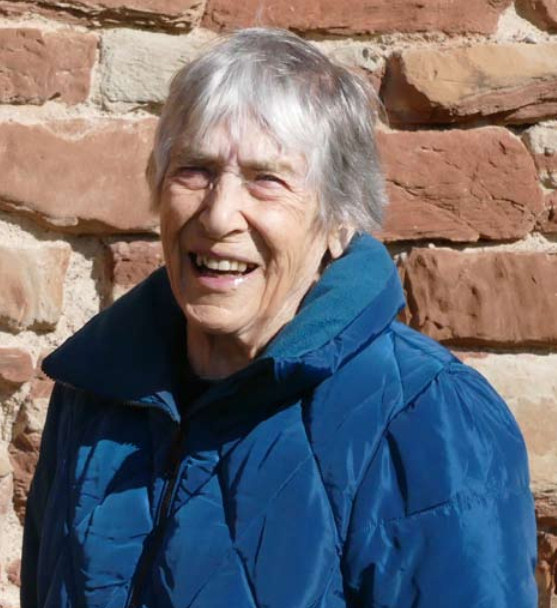 We tend to take writers like Elizabeth Sutherland for granted, perhaps because she is local, accessible and prolific. Perhaps because she is that rare thing – a gifted writer who is also modest. She's certainly never asked for attention, but it's a pity not to honour this grand dame of letters in our midst; so I invited myself to her house for a chat.
Elizabeth Sutherland - now Betty Marshall - was born in Fife in 1926 and raised in Dundee. One of three sisters, her father was a Scottish Episcopalian priest. Two of her great grandfathers were also clergymen, one of them a theologian and published novelist. She was surrounded by literature and God and a doting family. At a very early age Elizabeth understood two things: I knew I would be a writer, and I also wanted to be a minister. Her writing commenced at about age four, and by ten she was published. At age twelve, she went to boarding school where she was in great demand because she wrote stories tailor-made for her classmates. These were about infatuations between girls and boys, and – more interestingly – between girls and girls. That practise run at adult love, the adolescent pash. Imagine the treat she offered: to read a romance, starring an idealised version of oneself and the object of one's desire.
Her gender prevented a career in the ministry, but…I did the next best thing. Having arrived a week earlier to study social work at university in Edinburgh, she started exploring churches to join. In Old St Pauls, I spotted a tall young Episcopalian curate. I whispered to my friend: I am going to marry that man. By the time she was 21 she was a minister's wife. This life took her many places, five parishes, beginning with an army chaplaincy in Kenya for three years.
One of their longest stints was in Baillieston in Glasgow, where Elizabeth worked as a diocese social worker, as well as raising her three children, running the minister's household, and – let's not forget – getting up every day at 5am to write for three hours. Picture this: a cold dark house full of sleeping children and husband. She tiptoes to the kitchen to make a cup of tea, pulls a thick cardigan around her, then uncaps her pen to pick up where she left off yesterday. Every single day, for her entire adult life. In the beginning, she had no contract, no guarantee anyone would ever read her novels – in fact, the first five were rejected (though I later plagiarised them for other novels, she says, giggling). And yet she persevered. The pleasure she took in the act of writing was more than sufficient.
But her work, of course, did attract attention. One of her earliest successes was a novel called Lent Term about a minister's wife. This book caught the attention of the Sunday People, who ran an article titled 'My Naughty Book, says Vicar's Wife.' She was pleased for the commercial acclaim, but worried about the kind of attention it drew to her husband's parish. Though the quite innocuous novel brought two new families to the congregation, she decided to take the pen name Sutherland to prevent future embarrassment.
Respected publishers like Constable began to accept her work, and her writing career was well established by the late 1980s. Her best known early works include The Seer of Kintail and Ravens and Black Rain, both focusing on the Brahan Seer and second sight in the Highlands.
Does she believe in second sight? She replies: I believe there are things that defy explanation.
Another theme that recurs in her work is the role of unrecorded women in Highland history. Her refreshing biography (Lydia) of the wife of the geologist Hugh Miller, explores Cromarty's social structure and values from a woman's point of view. The Five Euphemias focuses on Scottish women in medieval times. Of course this was challenging to write – so little exists in records about these women – but this was exactly why Elizabeth felt compelled to tell their stories. In a mysterious way, I felt they wanted their stories told. Other books of note that focus on the past include the popular Pictish Guide, In Search of the Picts, and the enigmatically titled Piskies, Presbies and MacKenzies: Restoration and Disestablishment in Ross 1660 – 1700. All highly readable, these histories contribute much to Scottish identity and stock of historical fact. Her personal favourite? In Search of the Picts, she answers quickly.
How many books have you written? How many? I have no idea, she says, laughing as if it is a silly question. This is not coyness. When a writer is primarily interested in writing, she is not counting. Her guess is over thirty published books of non-fiction, fiction and memoir. She's just published Church Street, a novel about a village very like Rosemarkie, where she first moved in 1965 as a minister's wife and subsequently retired to in 1982. Church Street weaves second sight into religion – both Christian and otherwise. Her current work-in-progress is a requested history of Fortrose Cathedral for children, illustrated by local artist Rachel BevanBaker. While the quality of her work remains high, she has stepped away from the world of commercial publishing, and works with For the Right Reasons, an Inverness charity supporting recovering addicts and a publishing house.
I ask her about writers she admires. So many! Muriel Spark, Marilyn Robinson, Alice Hoffman, Elizabeth Strout. I re-read Middlemarch on a regular basis.
When she writes, what do she hope for? I hope my books – both fiction and non-fiction - entertain readers, of course. But primarily I write to explore a theme, for my own benefit.
How does she begin? I often start with a theme in mind. A theme that interests me, and includes morality somehow. Then I create characters and plot.
Tips for new writers: Write! Enjoy the writing. And once you've submitted, begin something else right away in case a rejection paralyses you at the starting post. Hope is the thing.
Talking to Elizabeth is like taking a brisk walk on the beach. Her eyes sparkle, and her posture suggests she is about to spring somewhere fascinating. After seven decades of writing, she still feels energised by people and ideas. Her intellect is rock hard, her store of knowledge staggering, but the most engaging aspect to this interesting author is her warmth. Here is a writer who doesn't flinch from presenting reality, but always manages to imbue it with compassion. For the daughter, granddaughter and widow of clergymen, she is also surprisingly open-minded. She accepts and embraces mystery, and the right of people to their own beliefs and values. And she still writes every day, regardless of outcome, because that is what proper writers do. They write.
↑