Mary Queen of Scots 1542-1587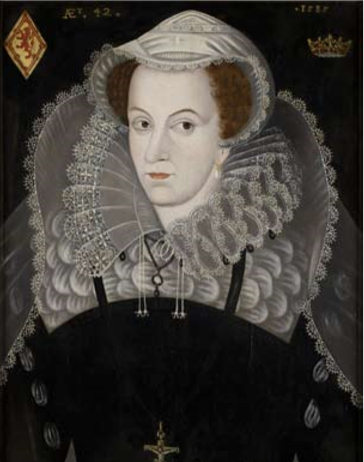 Les Dernières Heures: The Last Hours
Nails in your head
at the hammering that went on for days,
as if you didn't know about the scaffold,
about the blade,
and its journey, and the horseman,
and the call that finally came.
But it was the vivid silence that announced it
the warm skank and stillness of air
crowding creep of the walls
the sugared sweetness of your sweat..
that primed you..
assemble your mourners,
etch them on parchment
rouse priests and absolutions
cling tight
to your warm wooden cross
as you lie at last
listening...
Resplendent, unaided,
you walked
short steps to Golgotha,
two axemen,
your final fumbling grooms.

Seton
In solid air and brittle sunshine
we skirted the castle low on the landscape
glimpsed grey walls and peeping turrets;
a sudden, whirling North Coast gust
loosened long-limbed branches
spread them high and wide
and set them free,
their leaves a light footfall on the meadow;
brought sea-mist too
and a trace of full-skirted girls at play
rings and handstands and daisy chains,
a whiff of love
lingering still,
trailing across the fields
"bittersweet".
Seton Palace, now Seton Castle, a refurbished private dwelling, is where Mary retreated to as the guest of George Seton, friend and Master of the Royal Household. She danced here, held court, played golf and archery in the company of Darnley and subsequently, Bothwell. It was at Seton that they spent their last night before the surrender at Carberry Hill….

Carberry's Ghost
Again and again I come back
and there's a clearing above Carberry's easy rise
where the trees come close
those keepers of secrets,
their breath's bloom on my shadow.
I gather a scatter of words spoken over hours
that passed slow,
solemn vows finally dropping like stones;
and I send my lover south to England and away;
in rough red petticoats
disarmed, still proud,
I stand stout before the axe.
On the 15th June 1567, Bothwell and Mary rode to Carberry with an army to do battle with the soldiers of the Scottish Lords who objected to her marriage with Bothwell. There was a lengthy stand-off and Mary, the Queen of Scots, finally surrendered on an undertaking of safe passage to Bothwell.

James' Bible
Let me seek witches
see only my mother,
in the windrush of burnings
the foul breath of harlots.
Let me make bushfires on moorland,
hear the crackle of bones,
fiery hiss,
pater nosters and confessions.
Yet in every river and loch
the same water-lily breaking the surface,
a single reed
unbending,
standing always tall
on the shore,
watching.
James the Sixth of Scotland and First of England was the only son of Mary Queen of Scots. He was the most notorious witch hunter in history. Over 4,000 (mainly women) were consigned to the flames in Scotland. So obsessed was he, that he personally involved himself in many of the proceedings. He was responsible for the famous James Bible.
J'ai Promis Pour Vous: Last Words
Tell me about a country that's silent
where old religions linger
and like a hard frost
crisp words and skin to paper
make gods from history
and in bronze and stone
statues that never crumble
through flags and petty fame,
prolong a discourse fit only for tombstones
and the mouths of men whose teeth have long decayed
in unholy ground.
And I will show you that country's glory
its castles once loud with song
a chorus across its glens
a rain of fine words flowering their great halls;
I will show you a palace too,
once graced with the turn of her waist,
the twist and bounce of her curls and toes
as she danced her Gaillardes,
a city exuberant with proud livery
aflame with French finery,
colouring every stone and paving;
gardens regal to match our Mary
for here once walked a Queen.
And I will show you now
a city,
where in all its rhetoric for independence
and the freedom to speak,
her name is no more than whispered,
an inglorious imprint on a street corner
and the church walls that fêted an imposter
witness to her final and bold arrival
in rough red skirts,
huddle close by, dumb.
While from the block a quiet oath,
"J'ai promis pour vous"
an uncharted echo,
her last legacy
to an unworthy people.
In manus tuas, Domine
↑