Shoormal
Report by Lesley Harrison on a conference organised by Shetland College and UHI Centre for Rural Creativity last autumn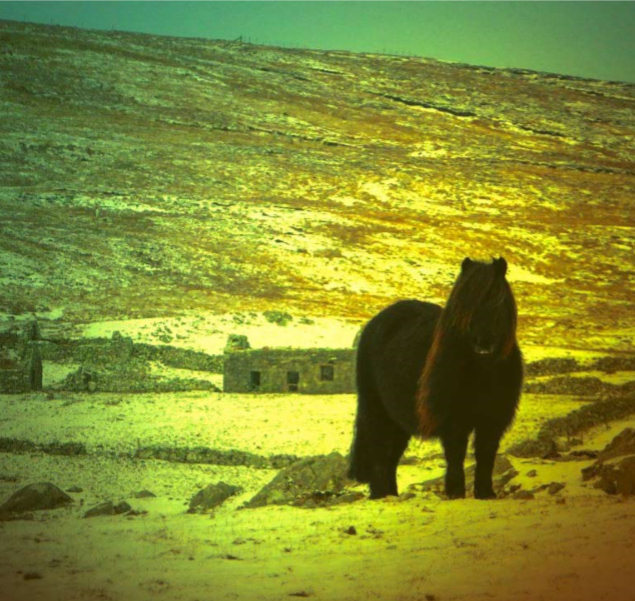 shoormal n - highwater mark on beach; the wate's edge. Dey fann his boady ee
moarnin ida shoormal. [Shetland ForWirds online dictionary]
What does northness look like? What are its sounds? Is there a clear aesthetic of the north; or does 'northness' exist only as an antithesis of everything we leave at our back when we pack the car and head for the ferry? Not stuffy rooms and multiple flickering screens, but cool blue landscapes and a sense of space; not traffic, but airy, empty roads; not blabber, but silence.
Which make the North Isles and the Hebrides ideal (idealised) holiday destinations; but this romantic isolation, whether real or imagined, presents significant cultural, economic and emotional barriers to development for the islanders themselves.
Shoormal, a conference held in Lerwick in September last year, put this issue front and centre. The UHI's Centre for Rural Creativity invited artists, academics and community workers to take the long view of the creative economy of the Highlands and islands: does it only service the tourist trade, or is there a deeper interconnectedness of rurality and intellectual and creative activity? What does this look like in this new nomadic age? Is there resilience; or is it wrong to look for this?
UNESCO describes intangible cultural heritage as including 'representations, expressions, knowledge, skills – as well as the instruments, objects, artefacts and cultural spaces' which are transmitted from generation to generation and which are 'constantly recreated by communities and groups in response to their environment, their interaction with nature and their history'. A community's intangible heritage comes under threat at the point at which it is no longer self-perpetuated within and for the community itself, but is transformed into something intended primarily for a stronger outside group - for the nostalgic 'tourist gaze'.
Katrin Dautel and Kathrin Schödel propose an alternative understanding of the ontology of the island-world as a 'constantly re-created space with changing boundaries and inscriptions'. This perhaps offers a more empirically accurate picture of the 'islandness' of Orkney and Shetland - as held in a web of semi-isolated island and mainland settlements which share a sense of interconnectedness and commonality. Heritage and cultural identity now become much more fluid. Cait McCullach described her role as a co-curator of Orcadian 'heritage', and its constantly renegotiated parameters: "where it stops and where it starts cannot be clearly bound".
The University of the Highlands and Islands aspires to be deeply immersed in its communities. In his keynote speech, Vice-Principal Neil Simco described how, in future planning, the university visualises itself within and from the perspective of the islands. There is clear evidence, he said, that learning has a direct impact on intellectual, cultural and academic development of the wider community; its senses of place and purpose are deeply interconnected. The UHI is further distinguished in its emphasis on the humanities, said Prof Simco: it is in the social/cultural/creative continuum that the scientific disciplines have meaning. The Shetland Arts Development Association also has a strongly civic role, said director Graeme Howell, which explicitly links cultural creativity and wellbeing in the "advancement of the resident".
To look back is to look forward. See, for example, the Bray Editions booklet Orkney futures: a handbook (eds. Alistair Peebles and Laura Watts). A diverse range of Orcadians and non-Orcadians - poets, politicians, scientists, tourists, locals and exiles - were asked to speculate on the islands' evolving future. Elements of Orkney's ancient past are interwoven seamlessly with migration, mobile phones, and energy from wind and waves: '[t]he future is imagined and made by us in heritage strategy, in timetables, in roadmaps, in schematics, in prototypes of new technologies', says Watts. This symbolic trajectory of past, present and future is important to the islanders' own cultural understanding of themselves as self-defining, as both integrative and outward-looking.
This question of representation rose again and again as speaker after speaker described their own representation, or re-presentation, of the islands. For me, the most powerful artistic responses were those that grew out of listening: as in Shetlandic jeweller Helen Robertson's ice-thin Hentinagaets - lace shawl patterns knitted in silver wire, stitched like cobwebs into fences and frames on abandoned crofts; and Catherine Munro's cultural study of the breeding of Shetland ponies and the crofters' discussion of 'the hill'. Nordic Viola's musical journey round the North Atlantic was incredibly moving. Katherine Wren (viola and laptop) and Gemma McGregor (flute, piano and percussion) traced threads of melody and song which had migrated round the North Atlantic rim. Their performance - an interweaving of Greenlandic polkas and drum dances, Shetlandic fiddle tunes, whale songs and whale sounds, wind and water - left the audience all but speechless.
I left Lerwick with a sense of foreboding: the things that can strengthen the islands' creative economy - technology, renewals of interest and participation, outcomes-based funding - also have the power to affect it disproportionately, and change it beyond recognition. Perhaps the ethical response of the artist is really to set themselves aside: to refuse the compulsion to word or frame what's around them, but instead to let this unique world assert itself, and to document this as it happens. I arrived on the Northlink on the Thursday morning, and waited out the hour before the conference registration opened by having another coffee out on the rear deck upstairs. Everyone else was inside or already ashore. The ferry berths 'nose in': the sky was clear and I could see all the way up and down the Bressay Sound. And something was out in the channel, travelling south to north, and at some pace. Every 10 seconds or so it surfaced and spouted, or 'blew'; the water was too choppy to see what it was, and it was gone in a minute.
↑