When The Dead Come Calling
Jennifer Morag Henderson views the sweep of contemporary Highland crime writing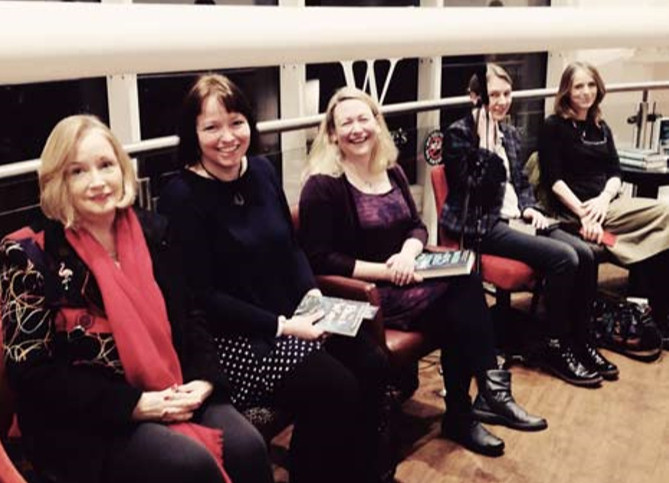 On 9th January 2020, Tain-based author Helen Sedgwick launched her new book When The Dead Come Calling in Inverness with a rather unusual event. Helen began by reading a short extract from her crime novel to celebrate its publication day, but she then introduced four other writers she had invited to join her for a discussion on 'Highland crime writing'.
The five authors represented the wide variety and vibrancy of crime writing coming from the Highlands today, with Helen herself presenting a book that mixes crime fiction with the supernatural, S.G. MacLean showcasing historical crime fiction, Margaret Kirk giving a sneak preview from the unpublished manuscript of her third DI Lukas Mahler novel, Barbara Henderson representing the burgeoning 'children's crime' scene, and me, as biographer of 'Golden Age' Highland crime novelist, Josephine Tey, providing some historical context.
In Helen Sedgwick's new book, DI Strachan, an incomer in a small village, investigates the murder of a psychotherapist against the simmering resentment of the locals, and the undertows of the older, haunted history of the land. Mixed-race Georgie Strachan's background in North Carolina is lightly sketched-in, with the personal focus on her marriage with Scottish husband, Fergus, but Helen talked about the constant background of contemporary discussions around racism, homophobia, misogyny and Brexit. Originally from London, Helen has set her book in the north of England, but said that the location was made up from a patchwork of places, with the book full of the sort of racing, wind-swept, changeable skies we see on the beaches around the Highlands.
The Highlands is a place, but there are also the people who live here: the physical landscape interacts with the need to move away from small places to find work, influences the type of people who then move in, the ideas of newcomers and returnees – and a sense of belonging. These are abstract themes to discuss, but they also bring up practicalities, and the other writers on the panel immediately started to draw out parallels with their own work, and bring their own knowledge to the discussion: Margaret Kirk pointed out that setting a crime novel in the north of England instantly made more research material available for a writer wanting to make the details of the legal system believable. There are big differences between the Scottish and English legal systems, and Margaret herself benefitted from discussions with a friend in the police force. Helen explained that her editor would pick her up if she strayed too far away from reality in the policework – but that she would then add extra supernatural details.
Talking about her forthcoming book, Margaret Kirk revealed that it is to be set between Orkney and Inverness: a reminder that the Highlands and Islands are diverse. The northern landscape is often used as a dramatic backdrop, particularly in classic Golden Age crime fiction, for a chase or hiding sequence – but nowadays Margaret can also write about some very urban crimes in Inverness.
While Margaret's DI Mahler has his fair share of family problems (including a sick mother), Helen said that she wanted her DI Georgie Strachan to have a happy marriage and fewer personal problems than the average fictional detective. Georgie's Scottish husband struggles with moving to a small English village, however, particularly as he can't find work there. There are some very modern scenes from their marriage as Fergus debates taking money out of their joint account, while Georgie worries that Fergus' unemployment – and increasing attraction to the mysterious standing stones – will stop the locals taking her seriously. The insider / outsider clash sets up some nice tensions for the policework side of the story, but this is very much a story from the incomers' perspective. Helen's book is the first in a planned trilogy, and there is scope to explore the themes, and the importance of the mash-up of Celtic myths, further in the following books.
Research seems to be a constant theme for crime writers now: the trend towards increasing forensic detail means writers have often done very specialised reading. Everyone approached it differently: although Helen liked to make up a composite setting, S.G. MacLean talked about visiting the places where her books are set. As a historical writer, this often meant a visit to a nice tea-shop at a castle – but the imagination came in thinking herself back to the past. With a PhD in 17th-century Scottish history, for S.G. MacLean the time period and the place came first, and the crime element of the books second. S.G. MacLean currently has two crime series, set in different locations, with schoolmaster Alexander Seaton in the north-east, while Cromwell's agent Damian Seeker works mainly in London. S.G. MacLean said the move south was partly at the suggestion of her publisher, but that she always particularly enjoyed writing about Banff, where she had lived.
S.G. Maclean's latest novel The Bear Pit features a gruesome scene with a hungry bear. Much of the action happens off-stage, but the visceral physical reality of early modern life, not only the violent crime but also as a time before modern medicine, is conveyed through her descriptions. An audience member asked if the authors at the event ever felt squeamish when writing, but Helen Sedgwick remarked that writing When The Dead Come Calling – despite semi-supernatural birds pecking out people's eyes – was some of the most fun she had ever had as a writer. Others were less sure, with Barbara Henderson pointing out that in her field, children's fiction, there were limits to the sort of violence that could be shown.
Barbara's children's novella, Black Water, is also historical, based on an incident in the life of Robert Burns, and specifically written for schools doing projects in the lead-up to Burns Night. Burns appears not primarily as a poet, but in his day job as an exciseman, solving a smuggling mystery alongside a child protagonist. The genre of children's adventure and mystery is not new of course, but it has been a growing field over the last few years, with a new wave of children's crime fiction led by Robin Stevens and her Murder Most Unladylike series set in a girls' school and riffing off the Golden Age.
Robin Stevens is a Tey fan, and it would be strange to talk about Highland crime without mentioning Josephine Tey, the subject of my own biography. One of the original Golden Age crime novelists, Tey was and continues to be both critically-acclaimed and bestselling, and her work has been hugely influential, not only for Scottish writers such as Ian Rankin and Val McDermid, but further afield to American Stephen King or Japanese mystery writer Akimitsu Takagi. Many of the themes that were discussed in the panel are things that Tey started to talk about in the late 1920s. Tey was writing almost a hundred years ago, but all the ingredients are already there: what the Highlands and Scotland are; who lives here and what it means to come back here after going away; the way the people and the landscape interact; the way that times are changing. Tey was always very sharp on the negative aspects of Scotland and the Highlands – though she was quick to disagree when others criticised her home. A crucial part of Highland identity can be the need or desire to travel and live elsewhere, the tension between an independent life and family ties, and the contrast between home and away. All of these provide a rich seam for stories.
The event was a confident start to the new decade for Highland crime writing, showcasing the current strength of the writing scene in Inverness, with five women writers coming together to discuss their myriad interests. Hopefully some of our enthusiasm was conveyed to the audience. Our conversations continued long after we left the stage…
↑