Hats off to Adrian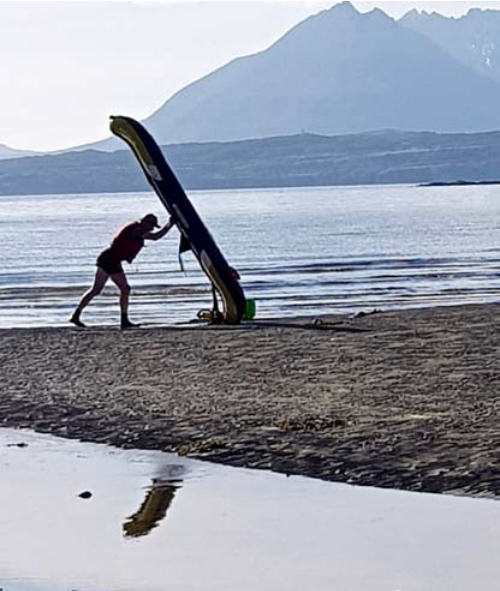 A span of eleven years can have a certain resonance, not least for those with an interest in the Northern Lights. Typically, the number of auroral spectaculars that grace the heavens tracks the activity of the sun, whose 'spots' – and the explosive ejections from them that help to spark auroras – rise and fall and rise again on a roughly eleven-year cycle. According to space scientists, we've just begun a new cycle.
So much, so celestial. Back at the start of the previous cycle, and down on Planet Earth in 2009, Northwords Now was also experiencing a shift. Rhoda Dunbar was about to stand down as editor after more than a dozen issues. She'd resuscitated the publication, after a brief hiatus, from its predecessor 'Northwords' – the magazine that ran for 34 issues from 1991 to 2004 – and would pass the editorial baton to Chris Powici in the following year.
In the summer of 2009, Adrian Clark joined the Northwords board and took over from Kathleen Irvine as chair. Adrian was already a weel-kent figure in Scotland's northern arts scene. Still working at that time as a Highland Council cultural officer for Caithness, Sutherland and Easter Ross, he helped to build enthusiasm and audiences across that vast area for exhibitions, live music, literature and more.
At the same time, he was part of a group that spent several years raising funds for community purchase of woodland near his family home in Evanton. Villagers and supporters clinched that deal in 2012. Since then, Evanton Community Wood has been one of Scotland's leading examples of how to make woodlands work for people and wildlife. Access, education for all ages and abilities, timber building construction, artworks, skills training and boosts for biodiversity have all been part of that mix.
Adrian has been part of the Evanton Wood Community company throughout, including as Chair and now Secretary. At the same time, oral history, amateur dramatics, sports and Gaelic learning have been in his frame of activities. And – of course – Northwords Now. The expression can be over-used to the point of cliché, but he's 'quite literally' been a hands-on chair. Hands that have lifted and stacked the bundles of each new edition after it's arrived, fresh from the printing press, to clog his garage for a few days. Hands on the sorting of packets to be distributed by post. Hands on the steering wheel as he drove to parts of the Highlands and northeast to deliver bundles. Hands on a keyboard to create spreadsheets and budgets to meet the needs of funders and contributors.
During his time as chair, Adrian has been helped by a range of other board members, who might often devote time and expertise for a few years and then need to move on. In the last three years, thanks are due in this way, for example, to Kristin Pedroja, Anne MacLeod and Peter Whiteley. The three board members who have joined in this time – Lesley Harrison, Sherry Morris and Kirsty Gunn – have all been very active in helping with different aspects of the Northwords Now project, not least during current challenges. A constant, across the whole span of Northwords Now from Issue 1, has been our designer, Gustaf Eriksson. His flair for page layout (including those tricksy, variable line lengths used by some poets, as if to stretch design skills to the limit) has been an important part of shaping the look of the publication.
But throughout Adrian's time on the board, Valerie Beattie has also been part of the team. Having developed the first undergraduate literature course for the University of the Highlands and Islands, Valerie is now happily independent of academia and working to complete two different books. Her good humour and patience in the face of this year's especially difficult demands of budgeting, planning and more has been a boon to all – not least this editor.
So, as the new solar cycle starts, I'll raise a cap (or maybe a bush hat, given his typical headgear) on behalf of the Northwords Now team to Adrian, to thank him for all he's done across those eleven years, and to welcome Valerie in her new role. Here's to some bright lights in the north.
↑