Japan Poems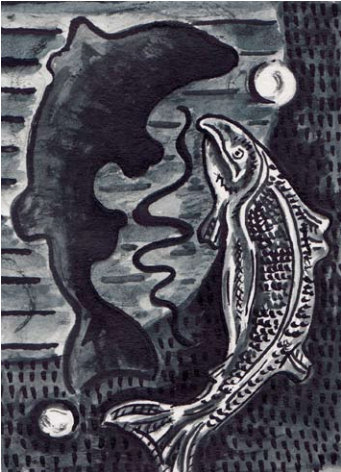 Haiku
cofaidh dubh agus milsean
- café beag socair càilear ann an Shinjuku:
blàths na Dùbhlachd
black coffee and sweet pastries
in a placid wee café in Shinjuku
- December warmth
Summer evening, the
river clear and still; two fish
glide from clouds to moon

Senryu
A student drifts through
the poetry section, sings
softly to herself.

Kōfu
wandering the colourful forest,
autumnal wood of gold and red and yellow,
every so often i encounter a standing stone
inscribed, modest, grey,
rock-solid, ineffable
- i should like to have made something similar
of this life 11in all its weathered emptiness

A Teaching
she, too, is a zen teacher
the cleaner who throws
everyone out of their rooms
before they think they're ready
How to Kill a Kappa
Kappa: a creature from Japanese mythology,
and the title of a book by Ryūnosuke Akutagawa.
The anniversary of Ryūnosuke Akutagawa's death
by suicide is sometimes referred to as kappaki.
Akutagawa's sketch of a kappa
is like an x-ray
of a human mind and
an inner voice saying
with professional sympathy,
'I'm afraid we've found
something that gives us
concern…' This
is how cherry blossom
turns to rags. He was not
the only one whose kappa
mind begged 'for someone to come
and strangle me in my sleep.'
I recall: 'What love he must have
lost to write so much...'
Akutagawa,
it is the grin of the kappa
that turns cherry blossom to rags.
Sleep, properly done, strangles
the kappa, healthy food suffocates
the kappa, exercise throttles
the kappa, compassion asphyxiates
the kappa; understanding that
what the mind sees it creates
- this is what garrottes the kappa.
Loss of love is not the worst of it.

Tully's
to ask if i want a large
or small coffee
she brandishes two cups
i make my choice
and make my choice again
a moment later
when she holds up
two cups that are
different sizes
we each blush
the two of us sleepy, fluent in the
same understanding we lack

The Most Natural Word of All
It is difficult to say farewell
to a stranger whom I have only recently
met and who sleeps when
I am cycling, writing, dogwalking,
who speaks Japanese but not Gaelic.
It is certain that all things
- languages, train stations, people -
are impermanent, and farewell
ought to be the most natural
word of all. Farewell makes
us intimate with everything.
Farewell makes poetry real.
Farewell introduces life-as-is to
life-as-will be. Farewell's parting
gift is the lust for another life,
one that doesn't leave us like this.
Half a Moon
tonight's sky has half a moon
i imagine the other half within
a mind, a poem, nine hours removed,
on the other side of the world
appearing in a Japanese poem, perhaps,
shining platonically like a teardop
↑