Plague Clothes, macCloud Falls and the wider work of Robert Alan Jamieson.
Simon Wilson Hall on RAJ's poetry and novels so far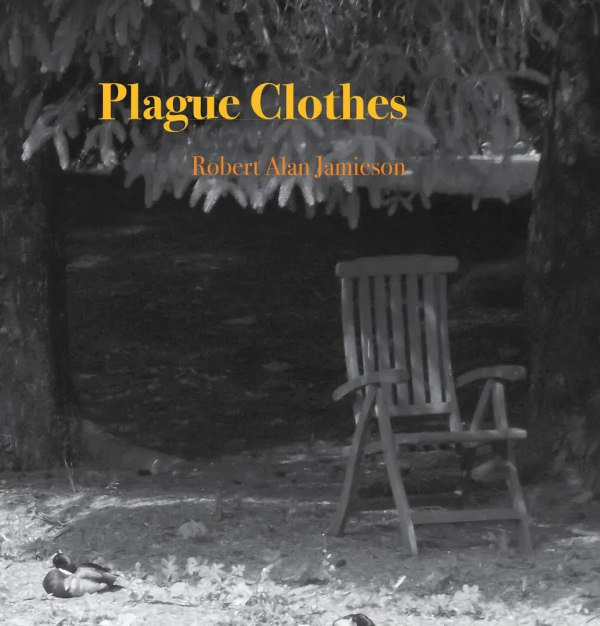 Plague Clothes – this latest collection of lyrics from poet and novelist Robert Alan Jamieson - is a book with a remarkable genesis.
In March of this year, as the first wave of COVID-19 swept the world and society ground to its lockdown halt, Jamieson fell ill with what now seems almost certain to have been a case of the virus. The illness was bad, and the poet's recovery slow.
But, as his strength began to return, he did what he must and began to type-up his daily reflections. These were not, I should add, reflections on his temporary personal frailty but rather reflections on the psychological processes of lockdown, on the rare moments of human joy and connectivity therein, and on the subhuman, venal political culture which better enabled the virus to carry out its deidlie wark.
The pieces began as simple Facebook status updates, albeit with characteristic Jamieson wit and a lyrical edge.
Within the space of a few days, they were emerging whole, and daily, in a quite remarkable series of reassuring and deeply cathartic COVID-19 documentary poems. As regular as the daily press briefings from the First Minister and the National Clinical Director, the lyrics became an alternative soundtrack to Jamieson's Facebook followers' lockdown.
Reading the untitled first poem of the collection by the glare of a small screen in my kitchen on one of the dark, dark evenings of the early lockdown, I was struck by its mysterious affirmative power:
We lost us for a while.

Until we were ill
We didn't know how sick our world was.

Until all was silent
We didn't know how noise polluted.

Until the hospitals were full
We didn't know how brave the staff were.

Until the animals came to town
we thought them dead, or they'd deserted us.

Until we saw nobody
We didn't know the ones we'd miss.

Some we'll miss forever.
A gentle incantation and a secular prayer, the poem seemed to distil everything that had appeared before us as we 'doomscrolled' the lockdown media. In its strength and simplicity, this was nothing less than a perfect lyric. And so, the tone was set for a sequence of quite remarkable poems that chart possibly the strangest experience of all of our lives so far and simultaneously succeed in offering some very welcome human comfort.
The poems divide into three categories. There are quiet, reflective pieces; there are poems which are really very funny; and there are others which are unapologetically aggressive and confrontational in their criticism of Johnson and Trump's handling - if it can be described as 'handling' - of the COVID crisis. From May 10th, the poem 'I call it what it is, a culling' belongs in the third category:
I call it now what it is, a culling

A culling of the old.
A culling of the sick.
A culling of the poor.

a culling of the weak.

I saw no change of heart,
just camouflage and bluster
over insincerity, personal
drama to distract.

Aim stated: immunity.

You heard it too.
This final line could be a play on the homophony of 'heard' and 'herd', and while 'culling' is undoubtedly hard to read, it is not an unreasonable choice of term; we're still wondering whether or not 'herd immunity' has been the UK Government policy throughout the pandemic.
Three days later, by May 13th, we can be in no doubt that the post-COVID poet is getting his mojo back. He returns to the same theme of the previous piece, this time addressing himself directly to Johnson:
But now, now that I'm a Lert and fully functional,
I have no option but to ask the honourable member
For Uxbridge

FFS,
WTF,
WTAF

d'ye think yer daein,

yaprickya?

WTAF,
FFS?

W. T. A. F.
This could be comical if it wasn't so deadly serious. The poetry is reminiscent of the anger of Tom Leonard, bringing language and class into focus once again and reminding us of the chasm of apartheid extant within the British system, stressing how this division has affected and worsened the course of the pandemic. Reading these poems again just six months on, it is hard to believe that these events happened so recently, and the poems serve as a record and a reminder lest we should forget the way things have been during these last few months.
There is a light interlude in the middle of the book. Part of Jamieson's recovery process (and part of his creative process) was to walk the river path from his home in the north of Edinburgh down to the Forth at Cramond. The walking and observing provide him with a number of Zen-like moments of reflection and calm as he contemplates the swans, the ducks, the trees. But there have nevertheless clearly been times when inconsiderate cyclists have disturbed the recovering poet's inner peace, as evidenced by a series of five hilarious satires entitled 'Know Your Cyclists'. In these, his wit is not unlike that of one of Robert Garioch's endearingly crabbit poetic personae.
Another of the many highlights of the collection, and a quieter, reflective poem is 'I hear 'Take Peace'', which refers to a phrase used in the poet's Shetland family when he was a boy:
I hear their voices in my head now,
Saying, 'Boy, tak paes, sit still.'
It was wisdom

I didn't appreciate then.
Now I get it

I do.
This therapeutic memorialising of the language and wisdom of old Shetland goes back to the poet's childhood in the west mainland during the sixties.
---
The Jamiesons are an illustrious Shetland family with a long lineage, and this brings me to a final quirky footnote relating to this book. During lockdown, the poet's son Patrick Jamieson and his partner Daniela Silva realised their ambition of establishing a new publishing venture, the Taproot Press, with the aim of promoting new outward-reaching Scottish and international literature. So, Plague Clothes has emerged extraordinarily quickly and with great vigour, and it is indeed a lovely looking book accompanied with a rich selection of black and white photographs of the north of Edinburgh during the lockdown. It is particularly satisfying to see new poetry appearing in hardback, and the fledgling publishers are to be congratulated on the quality of their production. As well as being a superb collection of poetry, Plague Clothes sets a very high standard as a first product, and it seems likely that it will be the first of many ground-breaking and challenging productions from Taproot Press.
Jamieson senior has made a rich, colourful and unique contribution to Scottish Literature over a career that now spans some four decades. Although he has become an elder statesman of Scottish Literature, a familiar fixture of the Edinburgh literary scene and a Senior Lecturer in Creative Writing at the University of Edinburgh, he also has impeccable Shetland credentials.
Born in Lerwick on Up Helly Aa 1958, he spent his childhood and part of his early adult life in Sandness in rural west Shetland, that land of lochs, rocks and heather where the black sea stacks assume their eerie and unkan shapes in the simmer dim. His was a typical Shetland upbringing. His father was a merchant and part time sheep farmer, and he lived in a multigenerational family home where the matriarch was Jamieson's great-grandmother, who had been born in 1898. Through her, the young Jamieson had a link to the older past and the Shetland language of the nineteenth century. He has remarked that there were distinct differences between the language used by his great grandmother and that used by his grandmother, who found some of her mother's words archaic and odd.
The family were Methodists, but there was none of the stereotypical joylessness that is sometimes mistakenly ascribed to rural Scottish religious communities, and Jamieson remembers a childhood of happy family faith, although he is now agnostic, describing himself in Shetland terms as 'blide', a word containing a combination of connotations of contentment, satisfaction and gladness.
Although he has never been confined or restricted by his island background, Shetland has nevertheless provided him with a store of language, lore and inspiration. His first two novels used Shetland as their setting. Soor Hearts (1983) is a dark historical island saga of opportunist island capitalists and preachers, while the follow up Thin Wealth: A Novel from an Oil Decade (1986) is one of only two Scottish books I'm aware of that deal with the advent of the oil age in the Northern Isles during the seventies (the other being David Sinclair's superb Orkney comedy about canny Flotta crofter Willick o Pirliebraes (1981)).
Thin Wealth takes a deep and serious look at the disruption to traditional ways of life and values that arrived first with the construction boom at Brae and Sullum Voe and which continued as locals found employment at the new oil terminal. The novel counterpoints the experiences of young Linda Watt, who takes some of the opportunities available to her generation, with those of the older crofters for whom the changes mean nothing but disruption and sadness at what seems to be the passing of an older way of life. Being young in the west of Shetland during the sixties and seventies, Jamieson was ideally placed to document these changes as they affected his community.
He developed a friendship with the Shetland novelist and lexicographer John J. Graham, who became a literary mentor to the younger writer. Graham published The Shetland Dictionary in 1979, and Shetlandic language was to become a necessary central feature of Jamieson's work, particularly in poetry. Jamieson and former Edinburgh Makar and west of Shetland compatriot Christine De Luca are now recognised as the two leading Shetland language poets of their generation.

Indigenous language has always been a key concern for Shetland poets (by comparison, Orkney Literature has been largely anglophone - think of Edwin Muir, George Mackay Brown or Eric Linklater) and Jamieson himself has published two splendid volumes of poetry in Shetlandic, Shoormal (1986) and Nort Atlantik Drift (2007), as well as a wide range of Shetlandic translations from European and other poetry.
I won't call it unkan, because that would be to assume a mainstream, southern point of view, but I will say that the language of these books is unapologetically confident, vibrant and authentic in a way that few modern writers in neighbouring Orkney have achieved so far (with the notable exceptions of Christina Costie and Robert Rendall). Jamieson has spoken of the importance of using a local voice for local poems and local material, and he describes the 'whittling out' of English as part of his process. He has certainly been influenced by the Glasgow work of Tom Leonard, and he speaks with relish of returning to first principles of orthography. It is interesting to note, notwithstanding Leonard's anti-nationalist linguistic insistence and his clear discomfort with regard to the concept of a 'Scots Language', that Glasgow poetry seems to have facilitated work four hundred miles further north in Shetland; surely there must be some commonality here?
Subsequent Jamieson novels moved into territory that is increasingly postmodern. A Day at the Office (1991) is a real-time, urban stream of consciousness departure from the more familiar rural material and has enjoyed enduring popularity and acclaim. Da Happie Laand (2010) returned and didn't return to Shetland, moving as it does between a contemporary island narrative and the story of a mythical Shetlandic South Seas colony. Most recently, and appearing again now in a new paperback edition from Luath Press, he has pursued these postcolonial and diaspora themes further in his most ambitious fiction to date, macCloud Falls (2017).
Protagonist and semi-reliable partial narrator Gilbert (or Gil, or Bert – for most of the characters in this deliberately unsettling story have multiple names and/or identities) is a sixty-something Edinburgh dealer in antiquarian books and a cancer survivor. Spurred by his recent brush with serious illness, he decides to make a bucket-list epic journey to the wilderness of British Columbia to research the life of his settler ancestor, the seemingly heroic Jimmy Lyle, and to make an important visit to the frontier home of a longstanding online client. Gilbert also has a third purpose in mind, as he hopes to write a history of Lyle's pioneer life. However, having read, bought and sold books all his life, Gilbert is tortured with misgivings about his own ability to make the leap to becoming an author.
Into this complicated mix appears Martina/Veronika/Sigourney, a second generation European Canadian with whom Gilbert strikes up an instant friendship on his flight from Calgary to Vancouver. (And immediately, the novel takes on a further, layered, autobiographical dimension, for we may have already spotted in the acknowledgements (can these even be trusted?) that '…thanks are due to Vancouver poet Miranda Pearson, who appeared as if by magic in the skies over Scotland in 2010 and … has remained magical ever since.')
The plot kick starts as Martina arrives at Gilbert's hotel somewhere high in the B.C. mountain territory. She has followed an instinctively sensed fear for his wellbeing, and, finding his laptop in the empty hotel room, she begins to read an imperfectly fictionalised account of their two days together in Vancouver before he took the road north along the banks of the Thompson River. So, there are shifting sands beneath the shifting sands, and we might as well accept that there will be multiple and conflicting 'truths' as the narrative progresses.
macCLoud Falls is at once a great American road-trip novel, a romantic quest, and an appealing mystery. Martina and her faithful sidekick the ironically named Hero (that's right, there's no hero, just a heroic dog) accompany Gilbert on an epic journey round the province, encountering a rich cast of characters.
The indigenous people of the Nlaka'pamux Nation are the key to Gilbert's quest: his ancestor is reputed to have negotiated with the colonial powers on their behalf and is credited with having saved from oblivion a hoard of First Nations lore and knowledge. But there are truths within truths, and it is only with the help of a hostile First Nations guide that Gilbert learns it was in fact Lyle's wife Anko who bore the traditions. Lyle's lesser contribution was merely being in the right place at the right time, being the white man who scribed the indigenous woman's knowledge in English.
Comparisons with the recording of Scottish folklore and the possibility of the existence of Scottish 'natives' are never far away, mirrored in the comedy of misunderstanding of varieties of English that pervades between Gilbert and the white Canadians. The Scottish and First Nations experiences have become entwined beyond the point where it is possible to separate them, and Scots Canadians announce that they have indigenous ancestors while First Nations characters declare their Scottish credentials. The novel succeeds in its ambition to bridge nationalities and identities; this is neither Scottish nor is it Canadian literature, and it should also be given due consideration as a 21st century cultural artefact making a good deal more than mere passing comment on the culture and traditions of First Nations people in a part of the world that we might now hesitate to too quickly refer to as 'British Columbia'.
Ongoing, postcolonial concerns aside, this is also the tender, dubious love story of two emotionally and physically fragile cancer survivors cautiously circling one another at a distance. Near death experiences come too frequently for comfort in this tale, from Gilbert's initial semi-suicidal ennui through to the later symbol of the 21st century frontier folk bagging up their treasured possessions and sinking them in a creek while a forest fire threatens to engulf everything they have built in their life - the constant fragility of our human situation is placed quite deliberately at the forefront of the narrative. For me, the sweetest, most tender moment of the story comes as the two frail survivors hold platonic hands and touch platonic toes in a cabin bed, contemplating the precious, delicate nature of life as represented by their friends' belongings deep in the creek.
Although by design macCloud Falls lacks heroics, it nevertheless charts a number of significant personal triumphs for the two leading characters, and the narrative pulls out a number of very pleasing surprises towards the end, one of which involves an antique book which may or may not be a first Kilmarnock Edition of Burns' Poems Chiefly in the Scottish Dialect. But it is in Canada where the endearing old Edinburgh bookseller encounters a startling range of new truths about his own, his ancestors', and his nation's past. I'd go as far as to say that this is Jamieson's finest prose work to date, while Plague Clothes is his best volume of poetry so far.
Robert Alan Jamieson is still much too young to be described as a 'grand old man' of Scottish Literature. But the accumulation of his work coupled with his ability to find such blistering form during periods of personal adversity mean that he is assuming his position as one of the preeminent Scottish writers of our time. Readers await further lyrical grace and postmodern playfulness and, in the meantime, we wish him all the best for a full and speedy recovery.
Plague Clothes is available at £15 from Taproot Press and the 2020 paperback edition of macCloud Falls at £9.99 from Luath Press.
↑