Wee Tam and Roy Rogers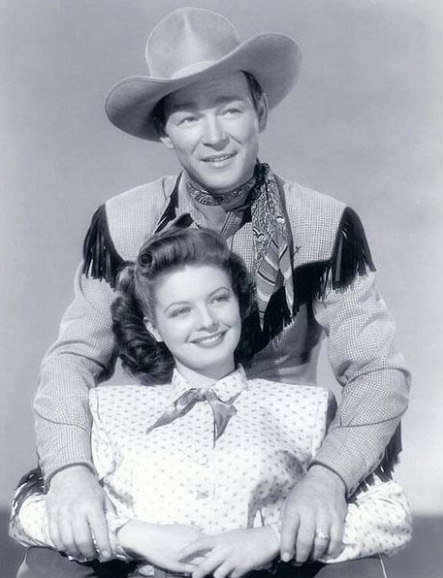 'Did ye ken Roy Rogers took ma daughter?' said Wee Tam. With a flick of the wrist he sent a metal beer keg spinning across the brewery courtyard.
'Oh, is that right?' I said, catching the keg from which steam still rose. Straight-armed and with a roll of my shoulders I swung it onto the gleaming stack behind me and tried to ignore Wee Tam's frown at my tone. I couldn't help it. Each morning he made the same complaint about the film cowboy from the Fifties. By evening, his mind had been wiped clean by the dregs he shook into the pint glasses that were filling above the steam machine.
All that summer I'd been working in Campbell, Hope and King's, the oldest brewery in Edinburgh. I'd failed my university exams so I wasn't going back. It was a watershed in my life. My maiden aunt had become my guardian after my parents had died in a skiing accident when celebrating their tenth wedding anniversary. A lecturer in History at Aberdeen University, she had made it clear her interest in me, and her continued support for me, was based on my academic success. I'd worked hard at retaining her affection throughout childhood, surviving all the angsty tests since then, but my lack of commitment had been exposed at last. The shock I felt was in proportion to the fear I'd accumulated over the years. After seeing the results on the noticeboard, that night I wandered from one pub to another, their windows splashing gaudy light on the pavement, their doors an invitation to oblivion.
Some of the pubs were in the Cowgate, that sunken canyon which threads its way through the Old Town and past the cobbled slopes of the brewery. Near my flat was one where musicians gathered to play jigs and reels and sing a few songs. The music was jaunty, carefree, and I especially liked when an old man turned up with a baroque flute. The bark and fat tones from the ebony cylinder made me want to dance. Later in the night more wistful airs were played, and in the first epiphany of that summer, it struck me that beyond Hip-hop, Rap or Pop, beyond even the refined output of the Conservatoires, here was beautiful music played by ordinary people.
One night I sat in my usual corner, pint in hand, drifting on the river of melody, when I noticed the old man was playing a new flute, the same dark wood, but with extra silver keys. The old one rested on the table in front of him. Propped over it was a 'for sale' sign. I swallowed my beer and fished in my pockets for change. Money was becoming a problem, but I couldn't face going back to my flat just yet, so I ordered another drink.
By the following week I'd grown so desperate for a job, I turned up at the brewery with my lunch-box under my arm. The foreman shook his head. 'Good try, son, but we don't take on students.'
Nearby, a tiny skelf of a man had just punched his card in the clock and now was doubled over laughing, his scrawny arm stretched out, finger pointing at the lunch box.
'Whit a brass neck,' he said, 'Ach, I'll take him. Since we got they Belhaven pubs, I cannae keep up.' That was Wee Tam, whose wishes held a mysterious sway throughout the brewery.
Drink was strengthening its grip on me and now I could afford it. The brewery issued a pint of export strength 'stagger' each lunchtime which made the afternoon fly, but by five o'clock there was a thirst for more and that was when the pubs opened. One night I wandered down into the Cowgate in a mood of exploration. Two men staggered from the doors of the first pub I came to. One was middle-aged, with the dusty flat cap and overalls of a plasterer, the other younger and smarter, perhaps an office worker or bank clerk. Both were drunk. Out on the street the young man fell down and with difficulty was helped up by the other, who in turn fell down, his cap falling from his head. The ruinous choreography went on and on, until I couldn't take any more. I whirled round and headed back the way I came. Later, I thought about what I had seen. These men are hardened drinkers. Been at it for years, I told myself.
One day I went to the canteen porter as usual for my pint of 'stagger', but got a shake of the head. I said 'What's going on?'
The man just shrugged his shoulders and nodded towards the courtyard where Wee Tam could be seen quaffing his pint, his head thrown back, his scraggy neck muscles working hard.
Later, in the afternoon, I queued in the brewery office for my wage packet. These were handed out by a pretty girl with long red hair. Her coarse banter with the other workers contrasted with her fine-boned looks. But when I stepped up, I wondered if the packet contained my final wages because she grew quiet and handed it over with an expression of sadness. Perhaps I had offended Wee Tam irreversibly? Then she winked. So that's what I look like, I thought. I walked away holding my wage packet and grinning like a fool.
What was in Wee Tam's head, I would never find out, but that night I realised that it was the first time I'd been properly sober for weeks. I climbed the winding stairs to my flat, cooked a nourishing meal and considered the rich flavours of this new life. Later on I lifted the wooden flute I'd bought from the old man in the pub with my first wages. With only one term of recorder lessons at school, it took me two weeks to get a serviceable embouchure. A month later I had a set of jigs.
As the summer continued, I noticed that in good weather the red-haired girl took her lunch down into the courtyard to sit on one of the barrels where the sun was strongest. One afternoon I strolled over with my lunch-box, and mustering a smile which I hoped did not show my desperation, I sat down.
'Ye're no fuckin' shy,' she said.
I couldn't think of what to say. Then, by some divine intervention I discovered the fear inside me had a tap and by some strange alchemy it was possible for me to turn it. 'I'm shy with everyone else,' I said. 'You must bring out the best in me.'
She was drinking from her bottle of lemonade and her laughter made the fizzy liquid go down the wrong way. On clearing her nose and mouth and wiping her eyes, she looked me up and down. 'There's more to ye than fuckin' meets the eye, posh boy.'
Our sly teasing continued each time we met. It seemed like an act of intimacy that we shared our lunch-boxes; she was intrigued by my tuna and cucumber sandwiches, I craved the caramel wafers which her mother seemed to tip into her box by the half dozen. One day, we had traded happily again when I said, 'Wee Tam and Roy Rogers, eh?'
'What d'ye mean?'
'Well, all this stuff about Roy Rogers taking his daughter?'
She frowned. 'Aye, what about it?'
'Was he riding Trigger at the time?' I laughed at my joke, but she didn't join in.
'It's true,' she said.
'Really?'
'Aye, it was in the papers. My mum told me. The cowboy and his missus visited Edinburgh, went to the orphanage and fell for her.'
'Wow. She was in an orphanage?' I was rattled by this and said the first thing to come into my head. 'With Wee Tam's drinking, I guess he couldn't make a fuss.'
She stared at me. It was clear I had misstepped. 'That's where you're fuckin' wrong. Wee Tam stopped drinkin' when his wife fell ill with cancer. Nursed her for a year he did, but the girl was taken into care as it was gettin' too much for him. But it was only meant to be a few weeks.'
I felt miserable, for Wee Tam, for the blighted family, for myself. But her look softened and also her voice. 'Then Roy Rogers came to town. Aye and his missus and Trigger too. Rode Trigger up the steps of the Council Assembly Rooms he did. After they visited the orphanage, the Social came round to Wee Tam and they gave him the choice. What I heard was he went up on the Pentland Hills all day and when he came back down, his mind was made up. What was best for the lassie.'
'Christ, what a choice to make,' I said.
'Aye, but a good one for her. They took her over to their ranch in Montana and brought her up with their other kids.'
'And what about Wee Tam?'
She made a fist and punched my arm. 'The day she left, he started drinkin' again.'
So the next morning I got to work in plenty of time. As usual Wee Tam sent the kegs spinning crazily over the cobbles, the sun flashing off their metal bodies. I had to be quick to catch them before they crashed into my knees. Nevertheless when Wee Tam finally said, 'D'ye ken Roy Rogers took ma daughter?', I was ready.
'Aye Tam, I know, and I'm sorry,' I said. ' D'ye want to talk about it?'
Of all the things I learned on the streets of Edinburgh that summer, the one from Wee Tam was the best. A lesson got without the goading of fear, from a small man with a big heart. The thing that drives us is love. The all-consuming power of love.
↑