The Quarant by Graham Bullen
Matador Books (2020) £9.99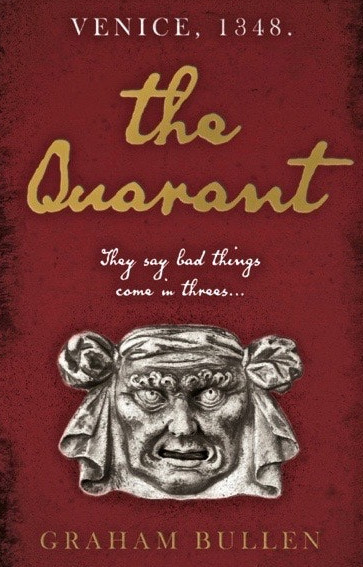 This is one of those books that gives you no time to warm up. From the first page, before you get to know anyone, you're plunged straight into catastrophe. The only thing you know for sure is the date - January 26th, 1348. Venice has just been struck by an devasting earthquake, followed by a tsunami. Malin, an English trader standing on the deck of his ship coming in to dock, first notices a woman's body drifting out to sea, her white veil swirling over some flotsam. It's both disturbing and mesmerising, much like tomorrow's scene of hundreds of bodies laid out in the Piazza, with Confraternities milling around them in their robes and tall pointed hoods. Malin has arrived with plots and plans - commercial, political and personal - but he's not prepared for what he finds. The images of death are laid out in short halting lines, hauntingly bleak, much like the corpses lined up in solemn rows by the canal.
Quarant is the mandatory 40-day requirement for imported cargo, while merchandise is ascertained and taxes calculated and paid. Malin must use this time to negotiate buyers, as well as accomplish his more complicated political and romantic aims. Each chapter title announces the date, and Bullen uses this constraint as the book's structure to great advantage. Tension builds as the quarant time shrinks, creating a page-turner. But the literary quality makes this difficult, for who would want to rush?
Through Malin, Bullen has much to say about the ambivalent nature of the world. About immoral elitist politicians who nevertheless stabilize their country. About an emotionally abusive father which results in an honourable son. About greed and the inevitability of betrayal – which never quite destroys trust or hope. About natural disasters undoing the work of centuries in a day, but not preventing people repairing and building again the next day. But the most intriguing parts of the book for me were the times Malin acts against his own benefit, trapped by patterns of behaviour formed in his childhood. To write a complicated plot set in the distant past is tricky enough. To people it with three dimensional characters whose problems and sensibilities are very much of their time, but also instantly recognisable to us - is a feat.
And all along, the reader knows more than the characters – that the worst disaster of all is hovering on the horizon. The word quarant (and eventually quarantine) will be applied to people, not cargo. By the end of the year, only 40,000 of the city's 100,000 will be alive. This is not a plague book, it was written long before Covid - although in a sense maybe all stories are. Maybe beneath all our struggles and endeavours, all our preoccupations, we are subconsciously waiting for the next plague.
This is Bullen's first novel. With another completed novel due out this summer and a third on the way, one gets the impression he is making up for lost time. That all this and more has been simmering for decades, and now it's tumbling out. This is exciting news.
↑