The Writer, the Island and the Inspiration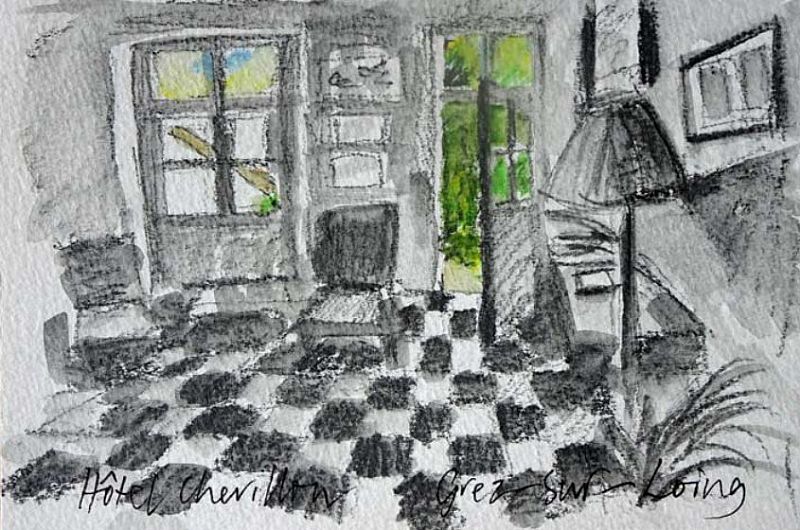 Not everyone enjoys the experience of being alone on an island. Forced to eat limpets, buckies and periwinkles, some of which made him sick, young David Balfour, used to being landlocked in the Lowlands, never did make peace with his 'horrid solitude' when he was shipwrecked on the Isle of Erraid. It rained continuously for nearly three days and he had only 'dead rocks, and fowls, and the rain, and the cold sea' to talk to. Ignorant about tides and assuming himself surrounded by sea, he hailed passing boats as he circled his prison, but was ignored and left hungry.
I wasn't knowingly a fan of Robert Louis Stevenson (RLS) but once living in Scotland from 1990, and referred to as a 'Scottish writer' since 2000, his work became part of my adopted literary inheritance. The meaning he took from travel, particularly journeys on foot, chimed with me. Some of his Treasure Island characters populated the Admiral Benbow Inn, a familiar landmark when visiting my mother in Penzance, and I glimpsed his family's lighthouses in my travels around Scotland on headlands and far skerries. They have long illuminated my imagination as elemental monuments with potential as dramatic crucibles.
But it wasn't until I won a fellowship to France in his name in 2019 that I picked up Kidnapped, for many years unread on my bookshelf. Perhaps I was partially drawn by the cover of the Penguin Popular Classic which shows a detail from 'Voyage to the Pacific' in which a square-rigged sailing ship is cresting a wave in a churning sea just off a high, rocky headland. I was beginning to research and write about my own seafaring ancestors in North Devon who ran some of the last cargo-carrying sailing ships in Britain, and so I began to read.
Here is a lowland boy, orphaned, betrayed by an uncle, shipwrecked on the West Coast and forced to walk across the war-torn and rugged landscapes of Scotland as he becomes a man. He travels with a diametrically opposed Highland character. Lost, disorientated, an innocent, he is unprepared for the physical challenge, but learns about life and his country as he goes. The author's passion for people and human nature surfaces as visibly as the sea and landscape in all its harsh romance. So I was surprised to learn that RLS wrote it in physical confinement resulting from the ill health which had often kept him isolated in his bedroom as a child. The novel came close to remaining unfinished.
Before travelling to France in summer 2019, and having now read Kidnapped, I made a mini-pilgrimage to the Isle of Mull's western peninsula; the 'Ross of Mull'. And then, to where, at its far western tip, Erraid is connected and separated by the tidal pulse.
I'm intrigued by tidal islands; a threshold opening and closing in a rhythm cosmically determined. I wanted to arrive there under my own power – bicycle and then foot – and then be contained, surrounded for another twelve hours, forced to appreciate nature's disinterest in my needs. I was intrigued by the idea that a space that was land when I set out on my journey would transform to sea. A drawbridge raised.
As a voluntary castaway rather than an enforced one, my experience was as different as it could be to Balfour's. June sunshine sang over me as I pedalled, with my load of camping gear, the 40 miles from the ferry landing at Craignure, over a high pass towards the tip of the peninsula. I finally stopped on one side of an inlet tapering from the Sound of Iona towards the place where the two land masses of Erraid and the Ross of Mull come closest to touching.
I'd timed my arrival for low tide at 6pm. But far from being dry, a small estuarine river ran midway, and it was clearly deep enough to prevent me taking any chances. Only later I understood that as this was the 'neap' period of the tides, when the moon is midway between phases of old and new and has least magnetic influence, the difference between high and low water is smallest. In contrast to the tidal conditions for David Balfour at full moon, for me not only was high water not so very high, but neither was low water so low.
A farmer directed me to a place further around the coast where I'd be able to cross. Abandoning my bicycle, I struggled across fields carrying bike panniers loaded with enough food and 2 litres of water to allow me to stay a single night. I stepped across a narrow stretch of white sand and barely lengthened my stride over 'the sea' between islands.
Cheered by landfall, I climbed from shore to plateau and dropped my bags. Flickering bog cotton marked soggy channels ahead but there were no obvious paths, no visible 'Balfour Bay' on an island only a mile in diameter. Abandoning one of my panniers, I set off with the other, following a compass bearing I hoped would lead me to it.
I sweated across the highest ground, ankles scratched by heather and bog myrtle. The scrape of barren terrain went on until, without warning, the scale suddenly flipped, and the sea appeared below me. Between me and it was a narrow green valley leading to a slot of white sand which widened between a pair of granite cliffs striding south-west, out into the sea. Even from a distance it was clearly the paradise I'd imagined. The bog relented and my steps quickened as I dropped down, small hills rising around me, till I was on sheep-cropped, firm turf above the sand. A cobalt sea waited beyond. There was no yacht moored in the Bay, no other tent. I had the place to myself.
Within an hour I'd returned for the other pannier and the tent was up on the grassy bank. I was alone with rock-pipits, plovers, sandpipers whistling the place alive on a long, cool Midsummer night. I walked barefoot down the shallow burn which carved the sand with feathery branches resembling the bronchioles of lungs. At the beach-proper, the bite of seawater on my toes told me I would not swim. But I paddled in a lagoon which crossed the beach, trapping a mix of salt and freshwater against a rise in the sand. It was brackish and warm.
When planning the trip, the short length of my stay seemed determined by the unavailability of fresh water. But now I found that, although unmarked on my map, a small burn ran towards my camping spot just before driving through turf to drop to the sand. There were sheep here so its cleanliness was not guaranteed, but I reasoned that by boiling it for five minutes, I would make it safe.
Because of the effort of getting here, I immediately decided to stay not one night, but two. The weather promised well for the next day and I wanted to sink into the place. My adventure in cycling from Craignure had already purged my restlessness. Balfour's 'horrid solitude' was now possible. But that first night on Erraid I relished being alone, and an escape from what I had witnessed earlier at Fionnphort, the ferry port for the Isle of Iona. While consuming takeaway langoustines and tea, I'd watched a boy of about eight in circular spectacles bagpiping ashore strangely quiet tourists from the ferry as they returned to rows of coaches. The procession seemed to go on and on. This shock of mass tourism in what we think of as a remote place, was later compounded by the sight of a cruise ship, luminous in low sunlight, looming like a tower-block first over the tiny island of Staffa and then the harbour at Iona.
I was unhurried, free to enjoy simplicity. To sleep, stroll, boil water for tea, munch oatcakes and cheese, stare at the lengthening shadows and the strike of last sun on white sand. Not for the first time I wondered whether I've been designed to be a desert-island castaway, to live unobserved amidst the small patrols of sheep and the cormorant family out beyond the shore. One flew in and out from a nest deep in the cracked granite, delivering the catch. Their
cackles were amplified by rock, conjuring monstrous creatures. Barnacles clustering on seaward rocks charted the sea's departure and return in their breathing and feeding, their shell doors opening and closing with the tides. I heard birds pipe on from within my tent till at least 11.30pm. The night temperature plummeted and I slept in thermals with the sleeping bag hood caught tight over my head.
I relished my own 'exile', reconnecting with my 17-year-old self on her first cycle-tour with a tent. No one, including my parents, knew exactly where I was. I met people, solved my own problems and fended off harassment long before the days of mobile phones. It was a thrill, that first independent adventure. I inhabited my true self, or another version of it. I also discovered that I was more gregarious than I knew, but that the comfort of talking with another person could sometimes be traded for dialogue between pen and notebook. Such travels, I believe, gradually led me towards a writing life, with travel in it. When taken alone, such journeys offer keen exposure to adventure, adversity and joy.
Stevenson was far more expert on the sea's ways than his character, Balfour. He said of his family, known as the 'Lighthouse Stevensons' for their impressive deep-sea tower building particularly around Scottish coasts: 'whenever I smell salt water, I know that I'm not far from one of the works of my ancestors'. There was pride, and a lifelong maritime-affinity. In a letter to Henry James written from Honolulu in 1889, he wrote, 'though the sea is a deceitful place, I like to be there ... and to draw near to a new island, I cannot say how much I like'.
This dissonance between the writer's knowledge and his Balfour character's ignorance drives the novel's sea-drama. Tricked aboard the square-rigged brig, 'Covenant', at South Queensferry, Balfour is dizzied by the sheer scale of the ship, the unfamiliar humming of the tide and sailors singing as they haul ropes. He's carried off as a prisoner towards slavery in the Carolinas. Sea-shaken through the Northern Isles, the ship's Atlantic crossing is thwarted by adverse winds and they are forced through the Minch, south to the Inner Hebrides.
They're still underway when Balfour notes the moon, nearly full. Whilst he couldn't have known the effect, his creator does, commanding lunar magnetism to accentuate high and low water in a spring tide. Not content with that, he 'moves' the infamous Torran Rocks 20 miles or so closer to the Ross of Mull. Add a captain without a chart and the ship is now in a sea 'thick' with rocks.
Kidnapped is set in the mid-18th-century before the famous Dubh Artach lighthouse was built. The need for it in this major shipping channel had been well made by countless losses on the lengthy archipelago of rocks which RLS wrote of elsewhere as 'an egg-shaped mass of black trap, rising 30 feet above high-water mark. The full Atlantic swell beats upon it without hindrance, and the tides sweep around it like a mill race.'
As the ship begins to struggle, Balfour observes how the brig is thrown about by the tide and three strong men struggle with the tiller. Just as a reef is spotted to windward, the sails empty. On the rocks, the brig falls onto her beam and he into the sea, 'hurled along, and beaten upon and choked, and then swallowed whole'. However, once the tide race has flung him out, he's able to struggle onto the south-west shore of the island of Erraid, at Tràigh Gheal, a place usually now spoken of as 'Balfour Bay'.
Cold, wet and weary, he spends the night walking to and fro along the 'desert-like' sand with a sense of terrifying aloneness. From higher ground at daybreak he sees that he's imprisoned by the sea on a small island and so his manic circling begins.
When Balfour finally understood the word 'tide' shouted across the water by a fisherman, and realised that at the ebb he could simply walk onto the Ross of Mull, he berated himself for not understanding better the ways of the sea. Admittedly he was unlucky on his three or four days (and it was convenient fictionally) that each time his circular prowl of the island brought him to the gut between Erraid and the Ross, he found it flooded by the high tide rather than fully emptied.
The words inland and island are visually so close; a trick, a slip of one letter away from each other. It suggests a congruence. On an island one is surrounded by water, a 'castaway', whereas inland we might feel swamped by land. As David Balfour found, one may induce a longing for the other.
Perhaps I understand his compulsive looping better from today's perspective, writing in the time of Covid-19 which has kept me treading within a more-or-less domestic radius for months. Lives seem both mundane and extraordinary. Lashed by the language of the sea, statistics are characterised as 'surges' and 'waves'. The numbers of dead are announced daily, and sometimes I imagine the terror of being isolated in hospital with lungs mechanically pulsed in ebb and flow.
I realise that, at first, it released me into acute appreciation of a glorious spring. I explored more thoroughly than I have in 25 years of living in rural Perthshire, discovering new paths, ruined villages, listing bird species spotted and rediscovering the names of flowers. A particular delight arose from the ritual of climbing to a west-facing rock on a small hill, sometimes carrying breakfast and a flask of tea, or with a bottle of beer in the evening. Gaining a sense of perspective, I could watch squalls approaching from the hills beyond Ben Lawers and look down on where I live – the compact grey stone town encompassed by moor, forest, field – where a safety net of relationships is woven. I knew that I was fortunate.
Nevertheless, over the months, my landlocked location began to tumble me into dreams of past travels, voyages, shorelines and horizons. On my inland-island I sometimes felt the loss of touchstones in the literary world, the wider world. But I felt most disorientated by the coast – usually a mere 60 miles away on either side of me – decamping beyond reach. Sixty miles became a forbidden distance, vast and dangerous. Above all in these months, I have longed for the sea.
Being forcibly stilled for wider travel made me realise how much my wanderlust and restlessness usually determine my life. The previous year between March and August I'd walked limestone Alps in Austria, taught residential workshops in the English Dales and in the Cairngorms, visited my mother in Cornwall, and spent Easter in Sussex. The whole month of August was spent in France at Hôtel Chevillon.
RLS had spent time on Erraid when his engineer father was quarrying and building the lighthouses at Skerryvore and Dubh Artach. It must have had a powerful effect on him at nineteen because he used it as a setting three times, not just in Kidnapped, but also in the story The Merry Men and in an essay reflecting on his time there, Memoirs of An Islet, in which he said: 'I steeped myself in open air and past ages'. Not in the engineering calculations his father might have hoped for.
Before choosing the life of a vagabond and writer aged 18, he travelled Scotland with his father on the annual lighthouse inspection, and later served his apprenticeship with the family business over summer vacations from civil engineering studies at Edinburgh University. Unimpressed by some of the coast, he called Anstruther 'a grey, grim sea-bitten hole'; Wick 'one of the meanest of man's towns, and situate certainly on the baldest of God's bays'. But other aspects thrilled him. While in Wick he took a trip in a diving suit to watch underwater builders, felt the ground under him 'quail' in a storm, and witnessed the North Sea's power to destroy the harbour developments not once, but twice (to the Stevensons' professional embarrassment).
In his essay, 'The Education of an Engineer' he summarised the incidental delights of the profession: 'It takes a man into the open air; it keeps him hanging about harbour sides, which is the richest sort of idling; it carries him to wild islands, it gives him a taste of the genial dangers of the sea...'. But he scorned the desk-work that followed, shut in an office, to draw or measure or wrangle with figures.
Caring 'for nothing but literature' he took 'a memory full of ships, and seas, and perilous headlands, and the shining pharos', and crafted fiction from them. Ships sail through his work, tide and storm generate drama between humans and nature. Stories of the sea's isolating power were passed down to him. Whilst building Dubh Artach, 13 men and the resident engineer were besieged for two weeks by an Atlantic storm, captured in their barracks – an iron pod on legs teetering on a rock. Erraid, used as the shore station, was 15 miles away from the reef and unreachable. RLS learnt how a storm at sea might capsize men's minds or how fellowship might arise from shared terror.
After a short stint as a lawyer, having rejected the lighthouse business, he cast himself off from family to become a writer. In August 1876 at the age of 25 he journeyed by canoe along the canals and rivers of Belgium and Northern France, leading to his first publication, Inland Voyage. The journey generated something to write about and expressed his adventurous spirit, but perhaps he also made a statement by turning inland. During his stays at the Hôtel Chevillon in Grez-sur-Loing in France, where he washed up for the first time after this voyage, he was protected from salt spray and granite cliff by 200 miles of land on one side, and a continent widening into remote distance on the other. Land-locked rather than sea-girt, his rebellion played out far from salt and family pressures, and with his liberated cousin Bob he found a bohemian 'family' amongst artists and also met his wife, Fanny Osbourne. Further summers there proved formative and changed the spelling of his middle name from Lewis to Louis.
Morning sun penetrated the yellow inner tent at 6.30am with surprising heat. I heard bleating and looked out. Grey-white wool on grey-white sand; they were barely visible. It was only the contrast of one black sheep which tutored my eye on the subtler shades of the others, settling cold-night bones on warm sand. Knowing that this was the hour of the morning's low tide, I walked to the beach barefoot on dew-jewelled grass and then icy sand.
Turquoise in retreat, the sea was poised to rise up the beach again. Newly exposed granite on the shore was marked by a few feet of plimsoll-line black lichen. And a small new bay was reachable by rounding a corner. It was a more secret place, skirted by pillars and blocks of granite and giving way to grassy banks rising towards the great western arm that reached into the Atlantic. Beyond it, I could see the isolated rocks and skerries on which Balfour's ship and many other non-fictional ones came to grief. But for now I had no need to explore further than my beach, the grassy ledge where I camped, and the burn that travelled through it.
I returned to sit outside the tent as growing heat burnt off the dew, boiled water and felt the keen rush of coffee. A light aircraft droned somewhere, and the odd pleasure-boat passed. Two luminous kayaks slunk silent lengths into the next-door bay. It wasn't even 9am and yet the world was already alert to the peculiar beauty of this day.
I became aware that a golden eagle wheeled above me, reinventing its shape by leaning its head or bunching its shoulders or braking with parted wing-tip feathers. It came and went over the course of the day, sometimes so close that its brute grace caught my breath. When the eagle was absent a gang of ravens took the air above the cliff. Boy-racers cavorting with the thermals, their boisterous croaks and shrieks were reserved for the most echoey places.
Even when horizontal in my tent with no view, the place pulsed on conspicuously.
The rhythm of walk and pause, day and night, activity and stillness over several days – just as RLS describes in Walking Tours – is my usual urge. On towards the new. But here I was content to settle, paying respect to a particular place and easing myself into its ways rather than imposing mine. Tide. Breath. Day and night. Waves washing a little closer or retreating.
I left the bay for a while that afternoon when a pleasure-boat came in and emptied a family onto the beach. It wasn't unexpected, but anyway I wanted to get up higher and to see the observatory on the north-west corner of the island which I knew had served a communication system with the lighthouses during their construction. From that vantage point, as well as the entire eastern coast of Iona, the rocky, western shore of Erraid was revealed. I could see a yacht below sheltering amongst the skerries from increasing north-easterly winds. 'Pippin', I read through my binoculars.
I lingered at the restored circular observatory, enjoying inside the way its two windows and door framed the panorama into horizontal slices of sky, sea, land. I read the story of the lighthouse building, learning that 50 souls had stayed on the island during the quarrying and construction. And then I wandered down to see their cottages on the north-western shore and the quay, all still solid and robust as one would expect of a Stevenson legacy. The project brought granite-working experts from Aberdeen together with Gaelic-speaking hammermen on the drills. It must have been an interesting cultural meeting. In 1872 they were affected by
a scarlet fever outbreak on the Ross of Mull, and then by an epidemic of rodents on the island.
I pictured a young RLS striding out and loitering just as I was, with his writerly sensibility raiding caves and crags and bogs for fictional opportunities. What kind of character would be tricked by the inconstant tides? Perhaps he was already imagining a dramatic episode for a young man, an inlander and Lowlander, alone here, stranded and hungry, wet-through from his wrangles with the sea and missing his companions. Such an imagination must already have been distancing him from his father, making him dreamy and aloof. 'I shall be a nomad, more or less, until my days be done,' he wrote to his mother in 1874, emphasising the restlessness he had always felt, perhaps invisibly to her. He told her how he would watch the trains leaving Edinburgh and long to go with them.
As I returned across the highest point of the island, I could see that in Balfour Bay no further tents had been erected and no boats were anchored. I walked on in bliss.
Whilst following the burn towards my tent, I saw a turquoise garment abandoned on the bank. Going to pick it up, a movement in the deep cleft where the burn dropped to the beach startled me, and I glimpsed the back of a human head. Copious grey hair straggled to shoulder length. I continued to my tent, wondering why someone would be hiding here; at least that was what it looked like.
Distracting myself with books, notebook, binoculars, I noticed after a few minutes that the garment had gone. Perhaps the person had climbed out and walked away up the valley while I wasn't looking. But I found it hard to relax into the coming evening without being sure I was alone. And that piratical wild grey hair: I pictured some vagabond unhinged by sea or solitude. Would the head turn to face me with an eye patch or gruesome scar or long red beard?
After a few minutes a smiling woman approached me along the sand. Almost apologetic. Long grey hair. She'd come ashore from a boat to wash in freshwater, knowing this small burn from previous visits. She joined me on the grassy ledge and in that half-hour sitting side-by-side, looking west, we talked only of meaningful things. She was travelling with her husband on the yacht I'd seen from the observatory. They moved slowly up and down the ragged coastline from their island home. The day before, she'd waded through puffins on Treshnish. We found common ground quickly. She always came ashore, she said, in order to explore on foot, while her husband liked to stay with the boat. They had found a formula for adventure despite the rheumatoid arthritis which has hobbled her longer walking adventures.
She was a beautiful woman, tanned from days at sea, hair tousled and her story luminous. We had no need to build barriers in such a place and whilst we were alive on that grass ledge flecked with grains of white sand. As we talked the arms of granite framed gradations of blue from pale near to us to the deep ultramarine of deeper, wider seas. The wind rose. Ravens squabbled above us. And I relished this human company in my castaway state.
I am not an island. I want to be connected, to be a piece of John Donne's continent, just as this 'island' of Erraid is connected intermittently to its mainland. Perhaps, along with many other writers, I have contradictory impulses. The desire for both reflection and activity, stillness and travel, solitude and connection. And the way our lives are pulled between poles play out in each case differently. I can enjoy both being landlocked as RLS was in Northern France, and sea-girt. But here our tidal island imposes connection to another shore, and at other times, isolation.
Then Helen walked away from me across the sand in her wellies and long coat and was folded into the rising green to the west; moving back toward her boat 'Pippin'. And I folded back into my solitude. At what I took to be low tide, I walked the shoreline once again. The Paps of Jura peaked on the horizon and closer by dark blue shadows lay under cliffs. Birdsong lofted in whirlpools above me.
Periwinkle and Chinamen's Hat shells had been washed up on the long, low-tide shore and I followed lines of fragmented algae which each incoming wave had deposited. In some places, looked at from shore to sea, the inland line was solid and precisely laid, and above it, like a strip of hieroglyphics lay a scattered geometry of algal shapes in diverse colours; a mysterious script which I didn't know whether to read from left to right or the reverse. An archive of the tide. Looking inland, low light shocked white sand flat but pronounced the granite above into high-resolution wrinkles. A deep blue sky above.
Twenty-four hours after putting up my tent, I lay down in it again, still wide awake but content to listen. I knew that the cormorant swooped in and out of a shadowy notch to deliver fish, the Golden Eagle soared across the roof of my world, and the plovers piped and ran along the ground in sudden starts. They didn't need me attending to them.
My own days at Hôtel Chevillon beside the Loing River were hot, August ones with a holiday camp atmosphere on the opposite bank. Each day was increasingly punctuated by the slap of bodies cannoning into water, young men mostly, jumping and somersaulting from the medieval bridge. But one day early on, it was overcast and in the relative quiet, fleets of ducks took their opportunity to reclaim the river. Fish rose with silky slops. I watched a large, dark bird fly downstream. It wasn't one of the herons I'd seen before, but I didn't recognise this bird until it rose up from beneath the river's surface close to the bridge and twitched its head repeatedly; a large and beaky head. Then it eel-dived, oily and slick and I knew it as a cormorant. Out of place and far inland, it felt as though the sea had come to find me.
I liked to picture RLS slipping through the same cool, high-ceilinged rooms 150 years earlier. He might sit on the terrace with a partial view through the heavy foliage of the horse-chestnut tree and down the small avenue of lime trees – not quite so dense and enormously tall then – watching light dappling on the river. And perhaps he'll go down the steps with Fanny or one or other of the artistic crowd who stay here, house-martins weaving flight paths over their heads. They'll feel the breeze more by the river, smell its slippery, celery-scent and watch skiffs come pointing through the arches of the bridge. 'If the evening be fine and warm, there is nothing better in life than to … lean over the parapet of the bridge, to watch the weeds and the quick fishes,' as he put it in Walking Tours. They'll comment on the ducks, and the way the evening light casts an echo of each arch of the bridge below itself, to form a perfect circle.
In this flush of liberation, with the comfort of surrounding land unfastening him from family and Scottish sea squalls, how would he react when a cormorant surfaces, stowing under its sleek feathers a reminder of brine and tide? Would his thoughts be recalled to a gaggle of dark birds on some tide-torn western skerry – ragged characters drying their wings in Atlantic wind? That hint of salt water might thrust him before disapproving ancestors. Would he feel unable to escape his legacy as an only child who disappointed his father and family, bringing to mind his defence in the poem Underwoods of 1887:
'Say not of me that weakly I declined The labours of my sires, and fled the sea, The towers we founded and the lamps we lit, To play at home with paper like a child.'
His popularity arose first from stories of adventure drawing on the sea and ships – Treasure Island in 1883, written as a serial for children, and then Kidnapped in 1886. His eventual success required audacity, persistence, even when no one wished to publish his work amidst general confusion about who he was writing for. For much of the 20th century, following his death in 1894, he was known principally as a writer for children.
Yet it's his travel writing and his essays that I particularly enjoy. He captures the freedom of being on the road alone and taking life as it comes. The throwing off of usual restraints, the casual encounters, and the dialogues that arise between solitude and company; the road and the stopping places. Days and nights under the stars, the body and the mind in motion. The pure joy of independent journeys.
It was perhaps why, when Fanny returned to the US in 1878, and he considered himself 'the miserable widower', that he took comfort from walking with a donkey in the Cevennes. Justifying this journey, he wrote: 'I travel not to go anywhere, but to go; I travel for travel's sake. The great affair is to move…' and the sentiment of the often-omitted extra phrase: 'And to write about it afterwards': a recognition that writers need experience as subject matter.
I'm always confident that the mesh of body and mind in walking motion will drum up locations and characters for fiction or provide insights into life, or even into myself. Travelling alone might be thought of as isolating, yet it can intensify meetings with others along the way. RLS wrote, about finding company at the end of a day, that it is 'as if a hot walk purged you, more than of anything else, of all narrowness and pride, and left curiosity to play its part freely, as in a child or a man of science.'
In 1879 he jumped aboard a ship from Greenock to New York in pursuit of marriage to Fanny Osbourne. Ten years his senior and still married with children, the relationship was hardly likely to meet with approval from his family. His sudden departure in secret from them may not just have been about rescuing the relationship. Could it be, as Ian Bell suggests in his biography, Dreams of Exile, that it was also a necessary adventure in order to have something to write about?
His onward journey of 13 days to Monterey, California, saw him haunted by the interminable plains beyond the train window and the difficult lives of his fellow passengers, but also by his own appalling psychological and physical state which after arrival laid him low with pleurisy, malaria and serious haemorrhages. The extreme he was pushed to became material for his writing. Perhaps some of us who focus on place and travel and adventure in our writing observe more closely and imagine more deeply when we enforce our own creative exile – whether on a new continent or by separating ourselves from those who care about us. Or, perhaps, by arranging to be encircled by incoming sea on a tidal island. We make a laboratory of ourselves.
Day by day, whilst I was staying at Hôtel Chevillon RLS became more alive to me. I cannot exactly explain this. Although I picked up books in the house – his own and biographies – it was almost as if I understood him through the implication of what the place had meant to him, defined by the Loing river flowing weedily past, lofting up a gauze of mist in the cool mornings. Later in the day there were swimmers and splashers and paddle-boarders. Sometimes in the shadowy tree-reflected evening, kingfishers scudded over my head as I swam. The Hôtel is now given over to creative lives and nurtures conviviality; offering potential once again for life-changing friendships. I tested my bare feet on the hallway's black and white tiles, imagining that they overlaid his.
His life was defined by a drive for freedom, in which he seems to have hurled himself from exile to exile, seeking experience and a climatic cure for his lungs. On his second Atlantic crossing, when he and Fanny left for the USA from Bournemouth – her domestic bliss and his domestic prison – he relished the storms on the 17-day voyage. Finding a fresh opportunity to reinvent himself and his work, he wrote to his cousin Bob that he had, 'forgotten what happiness was'.
I was reluctant to break Erraid's spell the next morning, but nagging at me was the question of leaving. My food had stretched to a second unplanned night, but I had only four oatcakes remaining, a serving of couscous, some cheese. The longer I delayed, the later in the day I would have to cycle off into what was now a strong north-easterly; a headwind.
I explored the arm of embracing granite to the west, returning to pack my sleeping bag and mat into their respective bags. Then I sat within the shelter of the tent door. I seemed to be waiting. But for what?
Having seen no-one all day, I was surprised by a figure walking slowly towards me across the sand, a big stick in hand, binoculars, a hat disguising the face. We both waved as she approached and materialised into Helen, strolling towards me from the good ship Pippin.
'You should have come to the shore and waved,' she said when I explained my dilemma about staying. 'We've got a 10-week supply of food on board. What do you want?' And I thought of David Balfour and all his frantic waving and shouting which brought him no help at all, making memories of his time on the island still horrible, even at the end of his cross-Scotland adventure. And here was I, desperate to stay and enjoy my huge privilege, finding assistance easily.
A little later I walked back across the island with Helen through deep bracken, crossing rocky inlets inlaid with shells and weed only ever washed by spring tides. When we reached steep rocks tumbling into deep water, her husband James rowed the tender across from their anchorage. While I waited they rowed back to the boat and returned with a tin of mackerel, shortbread, oatcakes, a carton of grapefruit juice and a good helping of muesli for the morning. The sea was irritable, pulling at the little boat as they passed over my supplies. Having exchanged addresses and promised to keep in touch, we each let go and they scudded back towards Pippin while I returned slowly to my tent, secure now for another night, feeling that there was nothing else at all that I needed.
Because it was cool and the ravens seemed to give me permission with their own antics, I played on the beach, climbing a vertical black set of steps up a two-foot-wide faultline in the granite. I listened to the wash of the waves retreating and coming in, the brief silence in-between like the bottom of a breath before the next inhale. And I tried to synchronise with it. I found the sea's breathing took only a little longer than mine.
I've wondered whether people who live in intimacy with the sea find in their lungs an echo of tides or the rhythm of waves? After the outbreath, the depletion, a brief stillness like a stretch of rock or white sand emptied of water. Or a slack tide before the flood asserts itself. The empty point emulates death itself; a blink of doubt as to whether life will return. And yet in it comes: the flood in of water to the bay, oxygen to the lung. The renewal of life itself.
But the lungs of Robert Louis Stevenson were treacherous and marshy with pleurisy and consumption, his tidal rhythms far from certain. Breath came in gasps and sputters. I discovered in this an etymological irony. The word 'lung' derives from High German 'lungun'; literally the 'light organ'. Its original meaning is only now remembered in the English idiom to, 'punch someone's lights out'. 'Light organ' seems to flicker with the spirit of his family's 'sea-lights', a mission bringing greater safety to so many seafarers. However, the word 'light' here refers to their tiny weight, rather than luminosity. Nevertheless, the breathing of life into characters, stories, landscapes by the rebel RLS is what the family is best remembered for now. His 'inspiration'.
Having spent time in France at a place where he was perhaps most active and in his best health, I'm especially aware of the ill health which dogged his life and abbreviated it at 44 years. It seems remarkable that it was so defined by travel and adventure considering his appalling physical condition for much of it. But ironically his illness, as well as his writing, seems to have driven the travel itself, towards the best climate for his lungs. When he and the family set off from San Francisco in 1888 for the South Seas on the yacht Casco, the 'great affair' had resumed. He shed another skin. But this time he never returned.
As low tide approached, I made a sketch of each new type of washed-up seaweed and I looked them up in my seashore book, as much because the names are evocative as from any need to know: grasswrack, bladderwrack, sea lettuce, dabberlocks, and then one which was like a sheet of pasta with frilly edges. According to the book this was Laminaria saccharina or seabelt or sugar kelp. Or, it may also be known as 'poor man's weather glass'. With that, my grandmother hobbled onto the stage of my imagination, tapping her barometer ritually once-a-day. She clearly didn't entirely trust it because she also consulted the piece of seaweed that hung in her small cabin at the back of the house, a custom that came with her from Braunton to Exeter via her sea-captain father who died when she was only seven. I suppose her seaweed was this 'poor man's weather glass'.
Before retiring to my tent, I ran up and down the beach to fire up my circulation and warm my numb feet. The tent zip had been broken by the wind. I woke at 2am with the sound of water closer. The high tide. The energetic time. I lay listening to it and reading. I didn't mind being awake; luxuriating in the long light of June in the North and happy to feel myself once again confined by an encircling sea.
I heard the first bird at 3.30 am. The sheep began complaining at five. At some point in between, I heard a snipe quivering its strange, sonorous chorus, drumming across the little theatre in which I seemed to be living.
It was too windy for the stove to work safely in the morning. This time I didn't hesitate but packed up swiftly and completely, realising how willingly I would have lived on like this given time and supplies; prolonging my intimate exchange with the place. I sensed that staying still in such a location for longer, a human would inevitably become more elemental.
An experiment for another time.
I stopped briefly at Fionnphort and ate an egg roll, millionaire's shortbread and a peach in quick succession with two mugs of coffee. Back in the world of tourist buses and money transactions, tables and chairs, I must have looked a wild woman, flushed with the outdoors, hair stiff with salt and sand, eating ravenously and spilling crumbs and coffee on the floor. The spell was beginning to be closed. I had stepped out of the circle, the amphitheatre in which my world had turned for three nights with birds, tides, sheep.
I pedalled off into a battering wind as I knew I would have to, towards the evening ferry from Craignure, pushed and jostled and occasionally almost halted by the sometimes northerly, sometimes easterly, sometimes in-between wind. Halfway along the Ross of Mull, I reached a high point overlooking the up-combed surface of Loch Scridain. It was one of those beautiful moments of synchronicity. Against the monumental buttress of Mull's great wilderness, the Ardmeanach peninsula – which concludes dramatically at its West end in a 1000-foot cliff – was a classic sailing ship. She was sailing powerfully despite scant canvas – two jibs and a staysail, and a much reduced, reefed-down mainsail. I was on the leeside so she leaned towards me, driven by the thrust of wind and sea from the north-east, and throwing up a thick white bow-wave. A single figure was visible at the wheel. A brave course set out of the shelter of land.
It was exhilarating to watch, and I felt what many of us probably do at such a sight. It's hard to define exactly, but I know that it causes even a sea-hardened fisherman to reach for his camera. As well as the visual spectacle, the conjuring of Stevenson and his pirates or brigands, it throws a line to our own history and the elemental nature of our ways upon this planet.
Many of us gasp at the vision of such a ship without needing to understand what's involved on board. But I was thrilled that day by a visceral sense of this 100-foot-long vessel; the spray and speed, strain of canvas and creak of rope and timber. Even at a distance the sight through binoculars brought alive in my body the memory of turning the Bishop Rock Lighthouse off the Isles of Scilly a year before.
Four miles off the nearest inhabited island, at the furthest western point of Great Britain, the lighthouse tower drew us towards it, our hands rough on hemp rope, trimming as a team those same foresails so that they and the wind cooperated as one great curved blade. We were in some of the most treacherous waters of these isles, the pale tower growing in height to its full 49 meters as we approached, sea hissing, readying to go about.
The construction of this lighthouse had been another extraordinary engineering challenge, though not a Stevenson one. Built to mark a small rock ledge and taking the full force of the Atlantic Ocean, the first attempt was destroyed by the sea. It was completed in 1858 after seven years of labour during which men were carried to and fro by small boat from a cottage on a nearby islet as tide and storm allowed.
Joy swelled in me with this small miracle, this wrinkle in time and geography, as I realised that without doubt, I was watching the Braunton ship, Bessie Ellen, first owned by the family of my great-great-grandmother, Emma Chichester. And here she was, still magnificent over a century after her building, far from her Cornish home port. I waved and waved and waved. And I laughed out loud, breathing in excited gulps.
For sure, I had steeped myself in open air and in past ages during my stay on Erraid, and here was the physical emblem of both appealing to me in my slightly deranged and sea-salted state. My true self, or a version of it, released from island-exile and throwing a line out again to the wider world.
↑