What's New in the North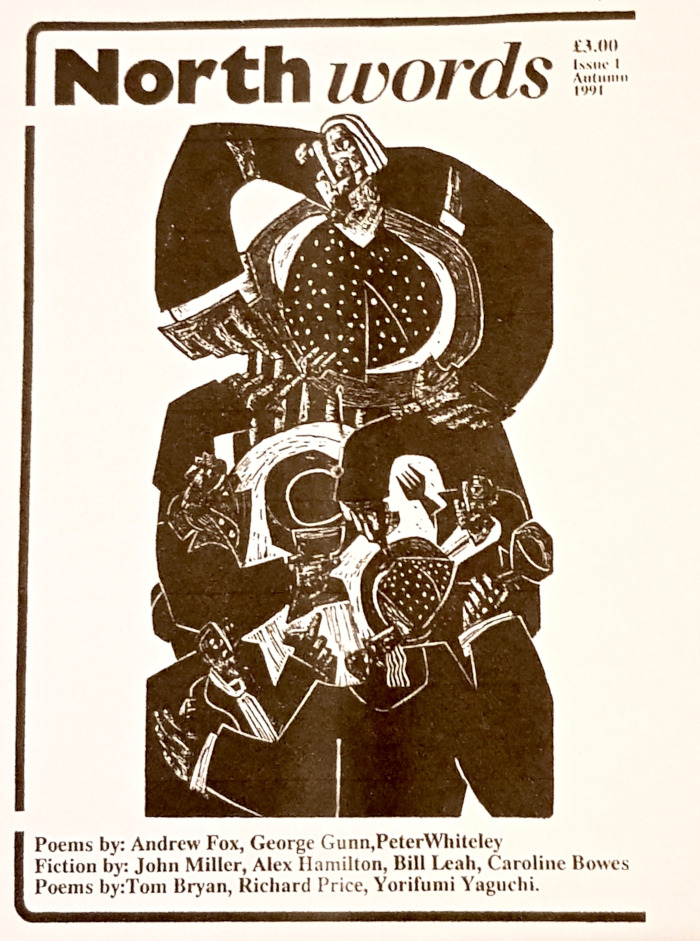 Gaelic Editors in the spotlight
Ceud mìle fàilte to Marcas Mac an Tuairneir as our new Gaelic editor. Marcas is well known as a writer and performer across Scotland, not least in his current home city of Edinburgh. He's a former chair of Bothan Dùn Èideann and involved in different ways with The Heretics, The Scottish Poetry Library and The Federation of Writers (Scotland), for whom he's the Gaelic and Social Media coordinator.
He's also an experienced literary editor, proof-reader and translator and a popular singer-songwriter, including through collaborations with artists such as Rachel Walker, Mary Ann Kennedy, Ainsley Hammill and Pàdraig Morrison. Marcas introduces himself on Page 6 of this issue. Expect some interesting developments in the use and sharing of Gaelic in print, online and in live events in future.
…..
Meanwhile, as we say 'Fàilte air bòrd' to Marcas, it's also time to congratulate Rody Gorman, who was our Gaelic editor from 2010 until earlier this year. In October, the National Mod appointed Rody as the new An Comunn Gàidhealach Bàrd, in recognition of his contributions to the Gaelic literary world.
Rody says that he is greatly honoured to have been awarded the position and hopes to promote Gaelic poetry and produce relevant work while in office. Readers of Northwords Now will already know some of Rody's work in Gaelic. But to celebrate his multilingual talents (and the cultural strength that Scotland gains through all its languages) we're delighted to include two of his recent poems, in English, on Page 30 of this issue. Here's to many more, whatever language the new Bàrd chooses.
Northwords Turns Thirty
In September 1991, a new literary magazine emerged on the Scottish scene. The first edition of Northwords (the Now came with a later incarnation – think Dr Who) ran to 52 pages and cost £3 (about £6 in today's money). Its aim was to "provide a forum for writers from the Highlands, while reaching out to include submissions from all over Scotland and beyond."
Founding editor, the late Angus Dunn, said that it had been "obvious that in the Highlands and Islands we had writers who were of national calibre, but who were known only locally, if at all.
"We felt that the time was right for a magazine with a fresh view, a northern perspective."
That first issue included dozens of writers, some of whom are still very active today. The cover art was by John McNaught, a freelance artist and photographer who is also Studio Manager of the Highland Print Studio in the heart of Inverness.
After 34 issues, edited both jointly and severally by Angus Dunn, Tom Bryan and Robert Davidson, there was a brief hiatus between March 2004 and November 2005. Later in that period, Rhoda Dunbar convened a public meeting upstairs in Hootenany's (also in deepest Sneck) where many people expressed support for a refreshed Northwords project. Rhoda then re-launched the publication under her editorship and in its current newspaper format, as Northwords Now. Following Rhoda, Chris Powici was editor for seven years until April 2017, when Kenny Taylor took over. Rody Gorman was Gaelic editor from 2010 until 2021, now followed by Marcas Mac an Tuairneir.
After Angus Dunn's death from Motor Neurone Disease in the autumn of 2015, a double-page spread of poems by some of his many friends, and dedicated to him, formed the centrepiece of Northwords Now Issue 31. In his introduction to those poems, Chris Powici said of Angus that: "Put simply, this magazine would not exist without his energy and passion."
It's pleasing to reflect that the key aims and purpose, set out by Angus for Issue 1 of Northwords and beyond, remain at the core of what Northwords Now aims to do today. Some things have changed. We're now free of charge, thanks to our funders, and our distribution across Scotland is wide. The print edition can be picked up in coffee shops, ferry terminals, libraries, schools, bookshops, writers' groups, galleries, theatres and more. Online, our website has an ever-expanding archive of content that can be searched and used for study and reading pleasure, plus audiovisual material on the homepage.
'Energy and passion' have driven the evolution throughout. They've been there in the efforts of many, many people – our board members, print designer, editors, web designer, printers, distribution managers and, most of all, the hundreds of writers who have supported us and who have featured from 1991 onwards. Those include both internationally known writers and people who've enjoyed their very first publication in Northwords pages. Now – as always – there's a joy to reading and sharing such work.
'New writing, fresh from Scotland and the wider North - Sgrìobhadh ùr à Alba agus an Àird
a Tuath' is the star we steer by; as then, as now, as ahead. Roll on the fourth decade.
Informal Readers' Group – some new suggestions
In Issue 41, we listed a few of the books we've now reviewed in the current issue, so that interested readers can compare their own ideas with those shared here, in pages 33 to 38. It's pleasing to see that several of these have now been in included in the current Highland Book Prize shortlist (Page x). As a heads-up for some of the titles coming up in our next review section (late spring, 2022), see what you reckon to a few (or all) of these:
As noted in Issue 41, poetry publishing appears to be on a roll these days. One consequence is that we can only share small tastes from the cornucopia, to give a flavour of some notable work published in recent months. Two such volumes are Chronicles of First Light (Drunk Muse Press), the fifth collection by George Gunn and The Rush of Lava Flowers (Amazon) by George's fellow Caithness dweller, Lydia Popowich. Stewart Sanderson's new collection the sleep road (Tapsalteerie) is crafted with his usual skill and is redolent of deep time. Ben Dorain: a conversation with a mountain (Irish Pages) is Garry MacKenzie's beautifully produced, widely praised response to both this mountain and to Duncan Ban MacIntyre's praise poem, written 250 years ago.
In nonfiction, four of the titles we'll cover will be With Net and Coble – A Salmon fisher on the Cromarty Firth by George Chamier (Pen and Sword), Unspoken – living with mental illness (Zen Cat Press) by Suria Tei and Slaves and Highlanders (Edinburgh University Press) by David Alston. There's a Northwords Now reader discount offer for David's book on Page x. For a deep dive into the thinking of a wheen of notable Scottish penfolk, Walter Perrie in conversation with Scottish writers (Grace Note) is a kist o' riches.
Memoirs are likely to include bleak – the mundane comedy (Saraband) by R. M. Murray (see his short story on Page x of this issue) and several others. For novels, Donald S Murray's In a Veil of Mist (Saraband) is a book we couldn't squeeze in this time, but will include in the spring.
We'll also be looking in depth at the work of Graham Fulton. Have a read of his Chips, Paracetamol and Wine (Smokestack Books) and Replacement Service – collected Bus Poems (Seahorse Publications) by way of an introduction.
That should keep you busy for some of the months ahead…
Remembering a fine torch bearer
For many people with an interest in the 19th century writer and polymath, Hugh Miller, there's been a link in recent decades to another Cromarty dweller and writer, Martin Gostwick. Martin, who died in July, was a former curator of the Hugh Miller Museum (re-established earlier by his wife, Frieda).
As a journalist, Martin worked for the Morning Star for many years. His legacy now is in the ways he communicated his enthusiasm for Hugh Miller's writing (including through two of his own books) and encouraged contemporary interest in Miller's wide-ranging work. Through the Friends of Hugh Miller, Martin helped to arrange international symposia, wrote much of a fascinating newsletter over many years and gave support to new ventures such as the former High Miller Writing Competition. In 2014, he helped to plan and was a shipmate aboard a 'Cruise of the Betsey' voyage in a tall-masted ketch, retracing some of Hugh Miller's journey to Eigg in a vessel of that name.
All those who were inspired by Martin's passion for Milleriana and much more besides will miss his wit, eloquence and camaraderie.
↑