Perfit words
Two Reviews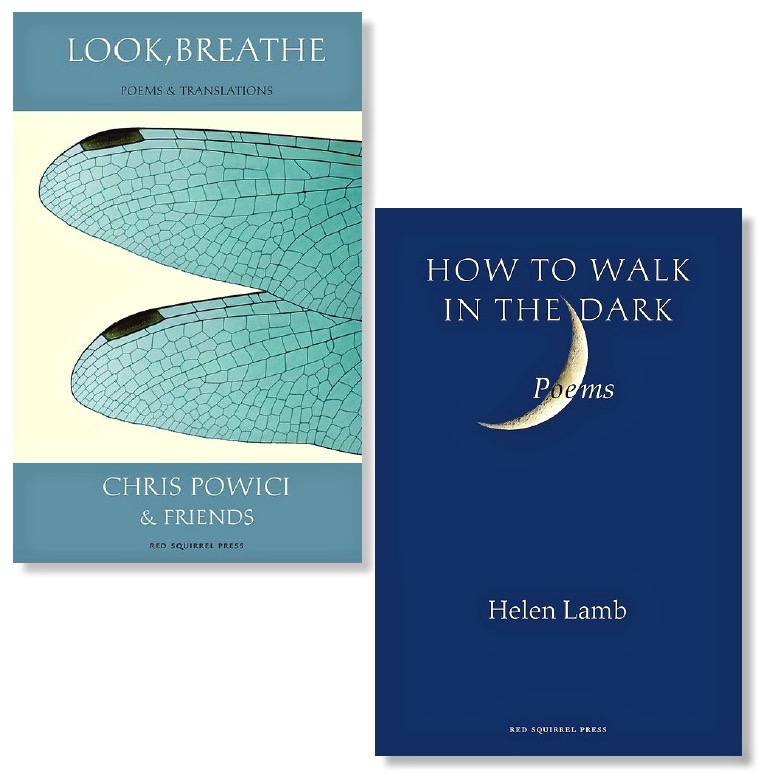 So many great collections have landed on my doorstep, rerouted by NN editors. These books – this dance of language interrogating the world we inhabit – at best spark both insight and delight. And these two collections from Red Squirrel Press How to Walk in the Dark by Helen Lamb and Look, Breathe by Chris Powici & Friends vie with the very best of them, share a clarity and light not often encountered.
How to Walk in the Dark
Helen Lamb
Red Squirrel Press (2022) £10.00
As many of you will already know, Helen Lamb's sudden and early death in 2017 robbed us of a wonderful writer and tutor. Fiction had seemed her main area of interest. Her short stories were widely published, read on radio, and anthologised. A short story collection Superior Bedsit appeared from Polygon in 2001, and her novel Three kinds of Kissing was published in 2018 by Vagabond Voices to great acclaim. But she was a considerable poet too. In 1997 Duende Poetry published Strange Fish, a much-praised anthology by Helen and her friend Magi Gibson. Some of these poems reappear in the new volume.
In the foreword to How to Walk in the Dark, Gibson, and Lamb's partner - Chris Powici, explain that this new book consists of the poems Helen herself had woven into a collection after decades of writing; some old and widely published, others recent. Their editing was light-touch, limited to deciphering her handwritten comments. How to Walk in the Dark is an unusual journey, zigzagging in time over two decades, the poet's own selection.
And they are remarkable poems; thought-provoking; storied. But this is not the practice of fiction. Spare, perfectly-structured poems rise from the page, take flight, at once understated and lyrical. They are not haiku, but the always-perfect choice of every word, and each poem's clarity and - outward - simplicity offer a similar expansiveness.
In three sections, The Secret Heart, Thirteen Spells and Seven Poems, Lamb explores the world with thoughtfulness and humanity. Uncertainty is balanced by hope, warmth and a rare fearlessness. She may be describing a bus journey in blizzard conditions 'Down the screeching brae/we skid to the river' (Getting there) or her grandmother knitting 'Grandma spoke as she knitted/ the tension of her yarn exact' (Passing the Needles) or a child running in a snowstorm '.. you dance out/ a little dot of scarlet/in a white whirling word'. (Snowgirl) and in every case observation and generosity beguile. In 1962 she comes home from school to find her mother transfixed by a TV news bulletin. It's the Cuban Missile crisis. 'my mother, on her knees,/wrings a yellow duster./The newsreader cannot/promise us tomorrow.' I remember that time. None of us was sure we would live through the night. But Lamb does not leave us on the edge of the precipice. In How to Walk in the Dark she advises her daughter (and us) '..no matter what/you stumble upon/always keep one foot/ on the ground'.
Like her stories, Helen Lamb's poems are perfectly mapped – sculpted – light and space around, insight and love within. Read them individually, savour them.
Learn to walk with one foot on the ground.
Look, Breathe
Chris Powici & Friends
Red Squirrel Press (2022) £10.00
Chris Powici has published two previous collections, Somehow This Earth (Diehard 2009), and This Weight of Light (Red Squirrel Press 2015). In autumn 2019, he asked his colleague and friend, the poet and novelist Kevin MacNeil, to translate one of his new poems into Gaelic so that versions by the two could be published together. MacNeil immediately assented, and Powici joked that finding translators for more of his poems would be quite a good way of compiling a third collection in record time. This was a joke, but he found the thought would not go away. The musical possibilities of different language versions, the inclusivity, the unexpected interactions that would undoubtedly occur in the process grew more and more persuasive.
Powici himself has Romanian roots, grew up in the South of England speaking English and now lives and teaches Creative Writing for the University of Stirling, and the Open University. From 2010 till 2017 he was editor of Northwords Now. His clear eye for the moment – for presence in that moment – drive the work, which is always lyrical, always engaging. In Look, Breathe he has assembled a band of poets who address the task with energy and commitment. Their translations are indeed, as Powici allows in the foreword, often translocations. In Look, Breathe you will find his work redrawn in Scots, Shetlandic, Danish, Irish, Gaelic, Flemish, Arcadian, Doric, Italian, Romanian, and Kannada. As he says, a feeling for the earth may be universal, but how we experience it is affected by culture, language, all the geographies. All the histories.
There will be many ways of approaching this collection.
For myself, I chose, first, to read Powici's work alone, untranslated: a satisfying and full collection. His talent for immersing himself in the natural world, in the moment – the right, exact moment – draws the reader in, enfolds. His unerring sense of line, the natural music in his words do more than describe.. they convince. As he says in Glen Tye 'some day I'll raise myself/ into a dawn so delicate/I won't have to say anything/not a word/ just look, breathe–'
And he's right about the translocation. My second reading of Look, Breathe, comparing the poem versions, does indeed offer different music. Magi Gibson's Glen Tye is a faithfully translated and an utterly different song. ' sune enuch Ah'll raise massel/ into a dawn so delicate/ Ah'll haud ma wheesht'
You could say the same of Argaty. In Powici's poem the last couplet reads ' a moon, a wood, rainwater, wet bark/stars blinking on twigs' while Kathleen Jamie's Scots version avers 'a tune, a shaw, rainwatter/ weet bark o trees/ sternies blinterin oan twigs.'
The heart of the matter may perhaps have crystallised in The Wild Summer, a poem written in memory of Angus Dunn, much-loved writer and previous editor of Northwords. ' and this, as you know, is the real poem, Angus–/a lone dark bird telling the truth about the world/ telling it well– /not these words//though given time I'll get them as right as I can'
translated in Snell Simmer by John Glenday 'Ach Angus, this here's the leed, the richt leed/ weel ye ken: this lane corbie scrievin'/the trowthfu things – no these words, mind/ no my words, but the perfit words.'
Having grown up with Highland English, without Gaelic, and with no more than the slightest smattering of Doric, I revelled in the variety and richness of Scots in these translations – a visual and aural scenery as diverse as Scottish landscape. I wish I could understand, or at least have heard the Gaelic and other versions on offer here. (A CD, maybe? Downloadable readings? A project for the future?)
In the meantime, this is a fresh, exciting collaboration. I commend it to you.
↑