Introducing… Cáit O'Neill McCullagh
A conversation with Anne MacLeod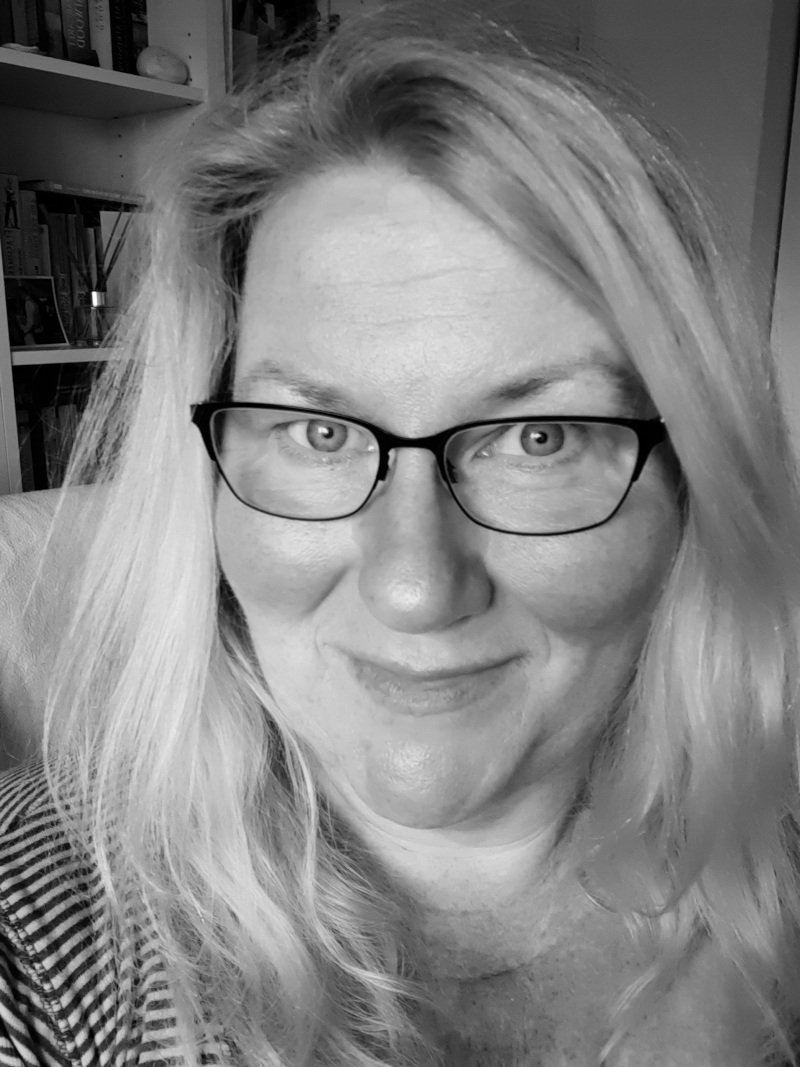 Perhaps the word introduction is unnecessary here. Many of you will already know Cáit O'Neill McCullagh. At eighteen, she came from London to Inverness to live and work in the L'Arche community. Since then, she has followed a rich and evocative educational path in Scottish Culture and Archaeology, culminating in the PhD she is currently completing on island living.
You may know Cáit as an Ethnologist: perhaps you encountered her as Community Archaeologist, Museum Curator/Development Officer, journalist, essayist, or Community Relations officer of the Corrymeela Community. You may have seen her on an early Time Team, having coffee with Phil, discussing Britain's Stone Age Tsunami in the Inverness MacDonalds (handily situated over a Mesolithic camp site.)
Such a life has inevitably involved a great deal of official writing. And she had, growing up in London, studied at the Guildhall School of Music and Drama. She had always written plays, one of which won a professional reading given by Judy Dench at the Royal Court Theatre.
She has forgotten the name of the play. but Cáit, whose collaborative chapbook with Sinéad McClure The songs I sing are sisters appeared from Dreich Press in July 2022 (first print run sold out in days) will always remember the exact moment she fell in love with poetry, the actual place.
She was at the Hamish Matters Festival in Blairgowrie, on 11th November 2019, the centenary of Hamish Henderson's birth.
Anne Can you tell us what happened that day?
Cáit It was the year of Hamish Henderson's centenary, and I had taken the notion to drive down to Blairgowrie for an event at which Timothy Neat would be showing and then discussing his film about Hamish as part of the 'Hamish Matters' festival. In truth, I was excited that there was going to be a celebration uniting two of my heroes from the days when I studied Scottish ethnology with Margaret Bennett, and also two people about whom I had heard so much from my friend Essie Stewart, who features, with her grandfather Ali Dal in Neat's film 'The Summer Walkers', and who knew Hamish well from the days when he would come to record her grandfather reciting the Ossianic tales handed on in tradition through generations of Highland Travellers. George Gunn, Caithness poet, playwright, essayist, philosopher and great champion of the freedom and freedom to think and act of people in the Highlands, positioned in a place seen for too long as peripheral and dependent on external stimulus, was part of the panel with Timothy and with the Perthshire poet Jim Mackintosh. And, in fact, it was George's words on that day, and the whole demeanour of his sharing of them, which really touched me.
I feel it was the first time I had heard someone speaking about the concept of poetry, of being a poet; experiencing and finding ways to articulate that kind of noticing of life as it is lived, specifically, essentially, that matched Hamish's idea of 'poetry becoming people'. George spoke about poetry as it was understood in a traditional sense, as I knew it from my own Irish upbringing and from my learning about the bardic tradition both in my studies and in my participation as a singer in the folk tradition; it being generated from community's own experiences and concerns, for example from their deep knowledges of place and environment or from the keen knowing of the desperation of grief.
His championing of the democracy of noticing and then finding poetic idioms to make more noticeable specific and diverse ways of living the universe, really reached into me. I felt I understood poetry in the way it could have real meaning for me. I understood that whole tradition of sharing it in bardic verse, or in song, or in stories beyond the intellectual sense of poetry as a genre and more as a way of inspiring fuller engagement with one's own life, its celebrations and predicaments, and correspondingly increasing empathy for others who, themselves, also feel the joys and precarities of the universe in their own beloved (or besieged) places in the world.
I'd encountered similar ideas in my reading of Henderson, and other poet philosophers, including Eduoard Glissant and Derek Walcott, those great poets and thinker from the Caribbean. On that evening, perhaps because George was speaking with a Highland voice, a voice I'd heard all around me since my teenage years, I understood it to be something I could participate in too – that poetry could be part of my own ongoing activism, an exploration of what it is we are living and how we might continue or transform that for a better present, and to assemble more sustaining futures. I suppose it was the moment I imagined that poetry could become a practice for me. On the drive home, I found myself stopping the car and taking out my notebook and just writing; writing what I later realised was a kind of embryo, emerging poem. It was a forceful experience.
Anne Online Writing Groups have been inspiring and supportive for you. Was there a Pandemic effect?
Cáit Yes, absolutely. Many of us might recognise the isolation that came when 'community transmission', the very social glue that makes up the connective tissue of living, being in relationship with others, became dangerous. Not being able to meet with others, and, for me as someone who is excited by that act of 'noticing' (doing it in my research, and in my work as a curator, an archaeologist, a researcher of communities) was disorienting. And, as someone who was getting interested in poetry as a kind of social action, it came at just about the worst time for germinating this kernel of interest. It was, again, George Gunn, who offered a kind of poetry lifeline, inviting me to join his writers' workshop, based in Caithness, but with some outliers, who, unable to meet in person, had transferred their workshopping to Facebook! I joined and sort of lurked really for the first few weeks, reading others' poems and being so impressed with the way the group members would share responses to each other's work, eliciting and nurturing the best poems out of each of them that they believed each was capable of. It was the trust and mutuality that touched me most; a sense of community. I started submitting my own poems to the group's process in December 2020. Very rapidly from that, and as much in a quest to assuage my own loneliness and the grief of not being able to visit my ailing father, who was living in a nursing home, at home, in Ireland, I began to seek out and join some of the proliferation of online 'open mic' groups that sprang up out of the pandemic constraints. I was welcomed with incredible generosity and a level of interest in me reading my own early and very sketchy poems, that I found humbling, and encouraging. Many of the poems workshopped with the Facebook group and tried out on fellow poets in those virtual open mics made it to publication in various journals and anthologies. I was learning from participating in a community of practitioners.
Anne And the chapbook? How did your collaboration with Sinéad come about?
Cáit We 'met' in one of those online reading groups – 'Not The Time To Be Silent'. I had really enjoyed hearing her read her poems and, it turns out, the feeling was mutual. What I think we were hearing in each other was a commonality of experience (being born in the same year of Irish parents pushed to becoming economic migrants, as contemporary discourse would have them, and move to London) expressed through our own distinct idioms; so both similar and different. Meeting online we moved to chatting on social media, and being very interested in the continuum of those both similar and different outcomes of experiences, as expressed in our respective poems. For example, I will often write in a kind of synthesis of English, Gaelic and Scots; the languages I hear around me and the languages in which I had studied and continued to synergise in my postgraduate studies (much to the amusement/ dismay of my tutors at Oxford). For Sinéad, this linguistic flexibility and variety was a source of delight. I was equally taken with the lyricism and ability with narrative in her poetry. I recognised a strong storytelling trait that felt as comfortable as a well-loved garment, for it was the absolute lodestone of life in my own upbringing. My parents and their countless siblings and my grandparents were all possessed of tremendous quickness for seizing the art and entertainment out of the mundanity of everyday, transforming it into the most extraordinary fables, full of wit and pathos and fantastic enchantment. They were all of them tutored in the culture of ceilidhing; of bringing yourself as a finely tuned instrument of entertainment, ready to do a turn at any social gathering.
I plucked up the courage to ask Sinéad if she might like to share poems with me, that we might together kind of workshop each other's poems. Thankfully, she liked the idea and we set up a wee online file sharing site and posted up poems and comments and conversation around these, a kind of correspondence, really, that we would then chat about further in Zoom calls every week or so. What happened then, quite organically, was that we started writing poems in response to each other's poems, or finding poems that we had already drafted that somehow spoke to a poem or two the other had posted up. We soon realised we had the makings of a joint collection assembling and once Jack Caradoc of Dreich advertised his 'Classic Chapbook Competition' in March of this year, we felt we were ready to submit what we had co-authored and edited and ordered into our pamphlet, 'The songs I sing are sisters', which, to our we are still pinching ourselves excitement, went on to be a winning entry. We were published in July, and, well, we are still reaping so many benefits from the experience.
Anne. We have talked before about your childhood, the vivid, storied Irish family you grew up in. About L'Arche, where you felt yourself stepping into Hamish Henderson's Carrying Stream. Are these the sources for your love of words?
Cáit Being the child of migrants, being a migrant myself, growing up hearing my bilingual parents present themselves linguistically in many different iterations: at home, with authorities, in their social circles, in various public situations, I was used to the idea that there is more than one way of expressing feelings, of ways of seeing, of making the world known to oneself and to others. It gave me an ear, I think, not only for the diversity of language, but also for its adaptive and interpretative possibilities, and for the fact that we can all of us switch the ways we understand, and are understood by being flexible with language. I loved the ways in which my parents would, as Emily Dickinson would have it 'tell it slant' in their use of English, making the ordinary sound strange and exotic. This and the wisdom of Sister Columbanus who when I was eleven entranced a whole class filled with Irish immigrant children, in London, through teaching us the Scots Border Ballads originating from the Wars of Independence. Those uncanny words rolled around my mouth like gobstoppers, and I loved it.
In L'Arche, living with people with what are called learning disabilities, many of whom we were inviting to come and live in ordinary community settings, leaving Craig Phadrig, and Craig Dunain Hospitals for the first time since they were children, I was sharing a home with people of my parents' generation, who had come from all over the Highlands, and from Skye. They brought with them so much of the culture in language traditions that they had experienced themselves as children. So, in my first few weeks of living in community with these phenomenally special tutors in the way of learning to live as a Highlander, I was singing in Gaelic and learning to speak the dialects of Easter Ross and Sutherland, and, of course, the beautiful, spoken Scottish English of Inverness. I am someone who, perhaps because of my early code-switching as a child moving between being Irish and modifying into 'English', finds it impossible not to start thinking in the languages of the people about me, and then responding in kind (ask my Shaetlan speaking friends). I felt that the people I lived in community with in L'Arche, through their completely unfiltered sharing of the words and culture of their Highlands and Islands, those utterly entwined aspects of dualchas, were inviting me to step in and become (and belong) with them in a continuum of tradition. It's this continuum that Hamish Henderson so accurately described as a our participation in a living tradition that began before us, and that flows about us in our present - a carrying stream, disturbing the environment around us and being disturbed by us, then continuing on towards the future. Being conscious of this, letting the stream shape us and being conscious of how we can influence the flow of it, taking responsibility for that, is intimately related to poetry for me, not just in terms of how I absorb all that richness and wisdom already absorbed into the tradition, but also in terms of consciously considering how I use and privilege words, including countering the privileging of dominant languages over those that have been peripheralized – my own parents' Irish Gaelic, the Gaelic and Scots of my own chosen place of belonging in the Highlands.
Anne. And other writers you find inspiring?
Cáit Too, too many to mention. I love so many, but, of course, I must mention George Gunn, who continues to reach for and offer poetry that is exceptionally reflective both of place and people here, and yet so deeply world facing and engaged. Another contemporary poet who is a tremendous inspiration is John Glenday, who I got to know through inviting him to work with me in extending new ways of co-curating the collections at Inverness Museum with communities through the region while I was a curator there. I adore the writings of George Mackay Brown, another hybrid, like me, I guess, with his Highland mammy and Orcadian da. Medbh McGuckian and Eavan Boland, those two incredible Irish women, write poetry that speaks to my desire for social justice and for the recognition of those least heard voices, including those marginalised and institutionalised. I adore the language play of Gerard Manley Hopkins and bell hooks: and, among poets younger than me whose words are like explosions of joy to read and read aloud, Roseanne Watt and Jen Hadfield light my rocket. Others, whole canon loads of the expected, Yeats, Macniece, the metaphysical poets, Rilke, Keats, and current favourites from all airts and pairts Joelle Taylor and Hugh Macmillan.
Anne In 'An Orkney Worlding' you conclude that George MacKay Brown's work can offer us 'potential histories of what and who we are, and can become together.' Obviously in your ethnological studies you are sensitive to such patterns. Where do you see the work of currently active poets (including yourself) going? I suppose I'm asking what is poetry for? What does it do?
Cáit I love what Bertolt Brecht had to say about this when he described his take on the idea of poetry as a mirror – the commonly shared idea that art is an imitation of life. Brecht accepted the concept of poetry as a mirror, but, he said that it was not merely an instrument through which we might only passively 'reflect', rather he clarified that it should be used as an active tool for clarifying the truth, showing things just as they are and including the possibility that this critical act of articulating lived experience can stimulate change. Rainer Maria Rilke, in his own poetry, introduced an idea of the poet as a bridge, working with 'Things' (for him meaning reality) that seem 'indescribable' and find a way to communicate them. This, what Glissant calls 'speaking the world' is what poets can do; writing about the world as we see and hear it, holding the mirror up, and finding language that will attract noticing and affective engagement. It matters that people are sharing poetry about what is being lived in Ukraine and about what it is to live a Black life and about climate crisis. These experiences that seem overwhelming and indescribable, even the very matter of how we love each other. Finding the words that make the joys and the concerns of life and living in this world accessible, engaging people's feelings, and sense of participation in the carrying stream, responsible for understanding pasts and imagining futures, having the will to listen and act, this is what poets can do, now, for all life.
Anne. Finally, you are currently completing a new collection invited by an independent Scottish publisher. Can we hear a little about that?
Cáit On 24 of February 2022, I was admitted to hospital and very quickly progressed to being diagnosed with two forms of cancer. It has been a deeply life altering experience and the stages of the process of my cancer – the initial devastation, the invasive surgery and the physically and emotionally challenging aspects of chemotherapy have been markers throughout the year. That date, in February, coincided with the invasion of Ukraine. The television screens in hospital on the date of my admission and throughout my subsequent treatments, were filled with the plight of the Ukrainian people, and, for me, this acted as a kind of lens, a perspective through which to understand my own condition, which no matter how tough it has been, has been nothing compared to the physical and emotional traumas visited upon people caught up in Putin's colonial actions. The poetry that has flowed from this strange entwining and growth of empathy through being more aware of pain, is the central core of this new collection. I'm hopeful it will speak to people (including those prospective publishers) out of those more general themes; the specifics of the war and of having cancer, yes, but also more deeply, what does it mean to connect through common understandings of physical frailty, and of loss and fear; to stop living as if in parallel with others? This would be the work I hope those poems might do, reaching out into our hearts, which, after all, want to beat, to live, and we can't do that alone.
Cáit O'Neill McCullagh & Sinéad McLure's chapbook The songs I sing are sisters is published by Dreich ISBN 978 1873412 57 2. Cáit is now preparing a new collection for Drunk Muse, which will be published later this year.
↑