The Rig
Udale Bay, Black Isle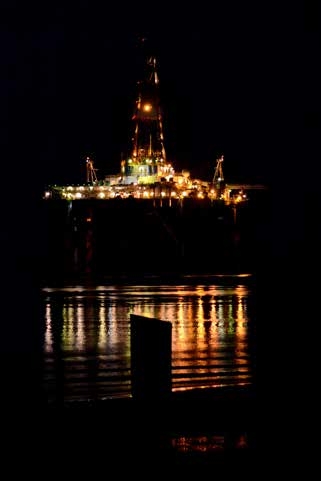 Still a mighty vision, 20 years out
from the Northern fields. High skeletal towers
on squat floating platforms landmark
this bay's reserve where migrant birds
Autumn before continuing North.
From high, where osprey nest
endless water spills below. Unseen
hands from across the yard keep
in constant repair. Tannoyed
mutterings drift to shore.
After circling the floating war grave,
tourist boats sidle up cursorily
before speeding out in search of dolphins,
past the seasoned companions,
downturn denizens gathering
in silent industry, lingering longer,
away, away from that distant sparkling sea.
Such beauty in decay;
waiting out time, rolling the waves;
fortunes that rest upon a turning tide.
↑