A Lighter Look at the Dark Stuff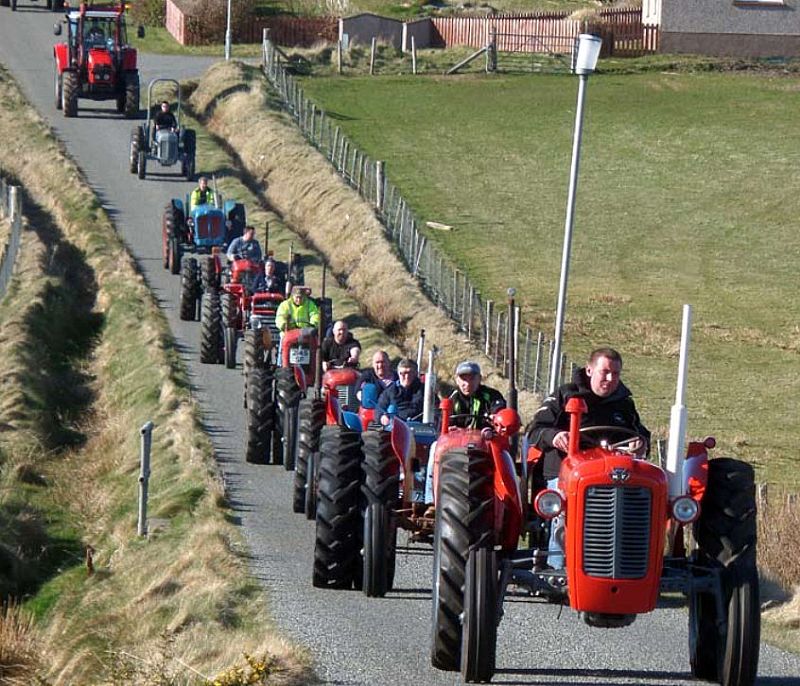 Notorious for his grumpiness, the Irish writer Patrick Kavanagh once edited a magazine which used to create mock competitions for its miniscule number of readers. Imitating the Sunday newspapers of his native country, he invited them to suggest goods and commodities that could be made for export to America. These, he continued, had to be 'outlandish enough to deserve a Government subsidy' with the winner obtaining the prize of becoming the 'managing director of the new State-subsidised factory' – one which was, presumably, based on their product. The following week the winning suggestions were announced. They included;
'Recordings of the Irish Constitution, Brogues and Clogs, Compressed Turf Smoke and Mushroom Complete With Leprechaun'.
There is, perhaps, one of these 'products' that Scots can recognise. We may, perhaps, be short of brogues, clogs and mushroom-perched leprechauns, but we have had no shortage of 'compressed turf or peat smoke' in our folk and cultural history. There were elements of this in our romantic songs. They included such declarations as Sir Harry Lauder's vow of love for 'a bonnie, bonnie lassie' who was 'as sweet as the heather, the bonnie, blooming heather' or the singer, Calum Kennedy's ardent desire to go 'rolling in the heather, no matter what the weather when a Heilan' laddie falls in love'. Given the rigour and toughness of that plant's stalks and blooms, one would have thought that the only proper response from any young woman to this particular invitation was – to use again the words of Sir Harry – to 'stop your tickling, Jock'.
There are, however, many Scottish products in which 'turf' or 'peat-smoke' is clearly compressed. Consider Harris Tweed which, according to one advertiser, is imbued with 'the expanses of the heathered moor and endless sky, … the intimacy of the croft-house and peat-smoked fireside'. Dangle a thin slice of peat-smoked salmon or haddock from a fork and breathe in the essence of the Highlands, the wild and empty acres of its landscape. Swallow it and be aware of the hidden depths of the moorland, its dark and timeless layers melting away in your mouth. And, of course, raise a west coast whisky – Talisker, Bowmore or Laphroaig, perhaps - to your lips and see its peat-brown tincture, roll the fiery liquid round your tongue and sense how 'the summer time has come' and how, too, the 'wild mountain thyme grows around the blooming heather'. There is romance, it appears, in every throatful, each drop that tantalises taste-buds.
And so it is with that powerful drug, the peat-fire itself. For generations, both writers and musicians have required no more than a quick whiff and puff to settle down and compose literary and musical masterpieces, all given – by sheer coincidence! – a title inspired by the proximity of the peat-fire flame. For the average accordionist, each spark and glow, each whoosh up the chimney is the musical equivalent of Mozart's starling, both echoing and transforming the Highland and Hebridean version of Eine Kleine Nachtmusik. (Murchadh Dubh! Murchadh Dubh! Can you do the Barn dance?) For the writer, the smoke coils and embraces him, Aladdin-like, its power passing on the magic of its talent, its ability to inspire, think, provoke, produce works of real flair and content that are the northern equivalents of Ray Bradbury's Fahrenheit 451, Percy Bysshe Shelley's Prometheus Unbound, a blaze of genius illuminating each word.
Yet beneath the cliché is concealed a little truth. Even the cynical Kavanagh recognised this in his own poem, the unromantically titled Kerr's Ass, when he wrote of the way in which:
'…a world comes to life -
Morning, the silent bog,
And the God of imagination waking
In a Mucker fog.'
Whether or not its magic can be 'compressed' into its smell or savour, there is something about its emptiness that wakes up the 'God of imagination' in the human mind. One can see its effect in the novel – from Hardy's The Return Of The Native' to Emily Bronte's Wuthering Heights, Hogg's Confessions of A Justified Sinner to Sir Arthur Conon Doyle's The Hound of the Baskervilles. It is present, too, in poetry – from Seamus Heaney to Ted Hughes, Gerald Manley Hopkins' Inversnaid to the work of Sorley Maclean, Norman MacCaig, R.S. Thomas. In this, the way we are compelled to fill its blankness, it is similar to much of the writing about St Kilda, which I attempted to satirise in my earlier book The Guga Stone: Lies, Legends and Lunacies of St Kilda. (Luath 2013). In the case of the moor, it is frequently horror that stalks there – as in the dead of the Moors Murders, killed by Ian Brady and Myra Hindley, and still lying in Saddleworth Moor, or the 'Disappeared', those killed by the IRA and Loyalist terror gangs, their remains stretched out somewhere within the moorlands of Ireland with little chance of ever being discovered.
There are a number of similar stories I write about in my new book, The Dark Stuff (Bloomsbury 2018), mainly – in its initial chapters - those that belong to the Highlands and Islands of Scotland. They include, among others, accounts of the Gunnister Man, found in Shetland and the peat-embalmed bodies discovered in Cladh Hallan on the western coast of South Uist in the Western Isles. There are also ghost stories and accounts of murders, often involving wild, untamed figures not unlike the Heathcliff that both Kate Bush and Emily Bronte conjured in song and story, full of 'a half-civilised ferocity' that 'lurked yet in the depressed brows and eyes full of dark fire'. When one reads of him and his gaze like 'devil's spies', it is not hard to think of him as the West Yorkshire equivalent of Mac an t-Sronaich, the legendary murderer who was said to stalk my native isle of Lewis at one time.
What I more rarely obtained in literature was that sense of the anarchic we found in the Lewis moors when while growing up, particularly in our early years. (It is – rather oddly – found in Enid Blyton's Famous Five books where the children are continually escaping there to find adventure.) As young boys in Ness, we were like that largely Irish phenomenon, wills-of-the wisps, burning off our abundant energy away from adult eyes. At one moment, we'd be impersonating our distant ancestors, the Morrisons and MacAulays, brandishing broadswords in battle as we chased one another down the slope glen. The next, we'd be exploring rathad an stail – the 'still road' - near the Dell River, trying to work out where exactly illegal hooch had bubbled and been distilled at one time.
It is this sense of the anarchic that often distinguished the Irish and Hebridean view of the moor from, say, the way it is portrayed in English literature or, indeed, the Dutch and German outlook that it is also examined in 'The Dark Stuff'. It is found, for instance, not only in the work of Patrick Kavanagh but also in the writings of Flann O'Brien or, indeed, those of Patrick McCabe, the creator of 'The Butcher Boy' and 'Breakfast On Pluto', in his novels featuring the small towns of the Irish Midlands, each one surrounded by an ocean of turf. Calum Kennedy's rollicking and rocking 'Rolling In The Heather', for instance, may have had its beginnings in Gaelic songs and stories, all featuring life around the 'airighean' or sheilings of Lewis. One example of this is Oidhche dhomh 's mi suirghe s mi na bhalachan og, a tale of woe and romance composed by Murchadh 'An Domhnall Bhig (Murdo Macleod) from South Shawbost. It ends with the cynical advice that instead of acting in the manner the writer apparently did, if you meet a beautiful, young lady from Lewis, you should:
'thoir tairgs is airgead posaidh dhith 'bith comhla rithe gu brath'.
(provide her a vow and a dowry and be with her always'.)
Sometimes, too, these very peatlands enable the writer to cast a wry glance at the outside world and all its eccentricities. Typical of these is a work by Murchadh Iain Tharmoid Dhomhnuill Bhig, a nephew of the previous gentleman from South Shawbost. His eye focussed on Dr Barbara Moore, a Russian born motorcycle champion and exile from the constraints of the Soviet Union. A vegetarian and breatharian who believed that food was not essential for human survival, she walked from John O'Groats to Land's End – as well as San Francisco to New York – in 1960, eating only nuts and vegetable juice along the way. Noting her surname's connections to the landscape that stretched out from his village, Murdo noted that;
' 's truagh nach robh thu 'n Eilean Leodhas',
(it's a shame you weren't on the isle of Lewis)
where she would prove incredibly useful both for carrying a creel and working in the peats more generally.
Even for the majority of people, however, the sense of the anarchic that bubbles below Murdo's words clung on till early adulthood – and even well beyond. It would be found in the tales we sometimes heard when we shared a flask of tea while out cutting peats on the moor, the grind and sweat of manual labour occasionally loosening mouth and tongue. It was especially discovered these moments when a tractor's wheels sank below the surface of the moor, digging through the turf and tiers of 'dark stuff' that lay below, grinding and spinning until – it seemed sometimes – that in true Jules Verne style, the centre of the earth might be revealed. Old enmities would be forgotten in the rush to tug the trapped vehicle from the moor. There were moments when it seemed a new form of traffic jam would occur where no wheels – or roads – had ever gone before, three or four tractors sinking slowly downward in their efforts to get the first one out.
Paradoxically, there were a large number of positives to be gained from such experiences. Each drowning, sinking tractor caused the community to come together; each skidding, sliding wheel becoming the stuff of legend, transmitted in either story or song from lip to lip whenever or wherever villagers gathered. The same was true of these moments during the cutting, gathering and harvesting of peat when matters went incredibly wrong. One of the most remarkable of these was composed by my fellow Nessman, Murdo John Morrison from the village of Fivepenny. He tells of a day in the mid-seventies when the young men from the district assembled to take home peats for his uncle, a man nicknamed an Righ or the 'King'. It was an experience which involved lashings of liquid, both tumbling from the sky and poured down the throats of the workforce who were involved. The tractor driver – apparently – required windscreen wipers for his glasses. Several of the more sober members of the workforce were confused by the white foam that mingled with the raindrops, continually gushing from the many cans of lager that were being opened while they worked. He rounds off his song with a couple of verses summing up the entire affair.
'Tha cruach an Righ 'nis dùint' againn,
Chan eil a samhail ann an àite,
Tha de dh"empties" anns an stèidheadh aic'
'S nach mòr gum faic thu fàd innt'
O mòine 'n Righ bha i sàraicht'
Gu dearbh b'e 'n sealladh àlainn i,
Nuair bhitheas a' ghrian na h-àirde,
Chi thu lasradh man na' daoimein aist,
'S i mar an òr ri deàlradh,
O mòine 'n Righ bha i sàraicht'…'

'The King's peat-stack is closed now,
Its likes not anywhere,
The empties giving it such support
That to find a turf is rare.
O the King's peats were such a strain
There's no doubt that it's a lovely sight
When the sun's high in the sky.
It sparkles bright like diamonds
Or gold when you pass by.
O the King's peats were such a strain…'
The anarchy of a day like this would be rarely found in the Netherlands or Germany. In these places, the peats were regarded not as an occasion for a social gathering or even revelry on a Saturday morning and afternoon, when people were free from the constraints of everyday employment like Murdo John and his companions. Instead, it was the basis for heavy industry. Without any large seams of coal, the Dutch relied on it on the production of both beer and pottery, even distilling for all that many in the Netherlands – like my and Murdo John's community – preached and prayed against it. This was also true of Germany, a nation which until the Franco-Prussian war of 1870-71 possessed very little coal within its borders. One could even argue that it was the lack of this fuel that partly caused the outbreak of World War One with both France and Germany reliant on it for their heavy industry and desperate to gain control of the coal mines found in regions like Alsace.
And this led to an entirely different habit of mind from the one found among the crofters and fishermen of the Highlands and Islands. Peat-cutting and gathering became – in itself - an industry, highly disciplined, organised and unionised. It is not by accident that the first Socialist representative in the Dutch Parliament, Ferdinand Domela Nieuwenhuis, emerged from the peat industry. It is also the case that, hard though it might be for those working in the 'King's peats' to imagine, many industrial disputes and strikes occurred among those employed on the peat-banks. Finally, too, the effects of harvesting peat as a fuel created a great deal of ecological damage in both the German and Dutch countryside, causing flooding because their landscape now lacked the moors that sucked and held the rain-water within its depths, allowing, too, the sea to encroach upon more and more of its acres when a dyke was broken or breached.
There is much else about this that is contained within 'The Dark Stuff'. Among the 'Stories from the Peatland' found within the book are stories that involve punishment and imprisonment, the attempt to reform the individual and society in a similar manner to the way in which the landscape was 'improved', even the early beginnings of the Nazi regime. (All these three are undoubtedly linked.) Reflecting on this, I can only look back to how different these peatlands were for the likes of me growing up in a place where the moorland in itself helped to engender a sense of community and when moments like the following were valued and became possible.
CHARITY TRACTOR RUN, NESS, ISLE OF LEWIS
(April 2015)
There are tailbacks all the way from Dell to Port,
congestion in a crofting district, snarl-ups, traffic jams
and tangles as tractors puff and cough to show support
for one whose days might be slammed
short by illness. Men come from throughout the island,
all these ghosts clearing smoke from exhausts,
giving it full throttle. They fix their rear-view mirrors, scan
those behind them that they've already lost.
Aonghas Mor steaming down the Aird Road to collect
his pension. Dolaidh taking home peats.
Dad heading out in winter to correct
some fault in the engine, his feet
leaving prints in mud or snow. And then there is that train
travelling out the peat-road, seeking to haul
and take the strain off some tractor stuck in that terrain,
tyres skidding through its surface as it halts and stalls
deep within that morass, sinking further down
till it's engulfed by darkness like these souls
who never - these days - wheel their way around ...
↑